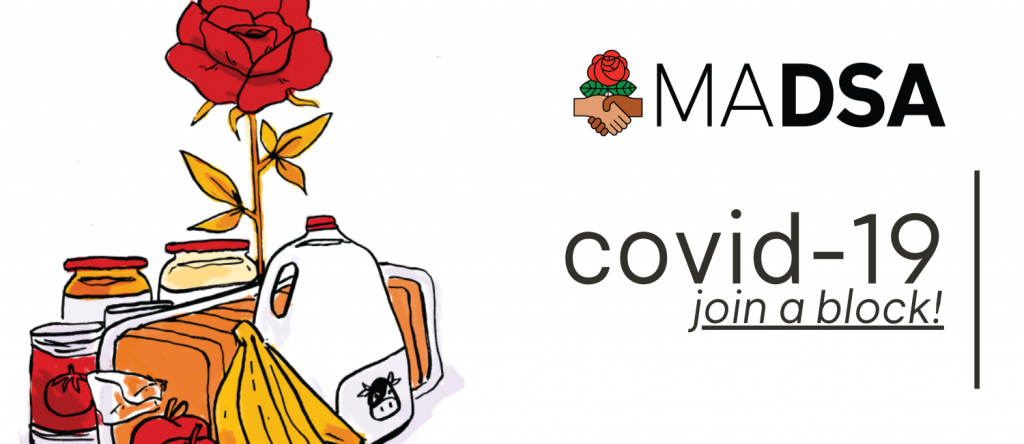 The most important thing you can do right now is get organized. The COVID-19 global public health crisis and looming recession have made the stakes clearer than ever – we need to stand up for ourselves and protect each other.
We're organizing neighborhood level DSA groups, called "Blocks," around the Metro Atlanta area. These DSA Blocks have weekly calls and are organizing around local issues in their immediate area. They're working on grocery delivery, tenant organizing, and general political education and outreach. If you live in the area and want to join a DSA Block, or just get in touch with them, email them!
Midtown Block
midtown (at) madsa.ga
Captain: Thomas
East Atlanta Block
InnerEastAtlanta (at) madsa.ga
Captain: Jack
Greater Decatur Block
GreaterDecatur (at) madsa.ga
Captain: Will
Cobb-Cherokee Block
CobbCherokee (at) madsa.ga
Captains: Kate, Rich & Christopher-Robin
We have more Blocks in early organizing stages. If you're interested in starting one and organizing with DSA members in your neighborhood, first Join DSA, and then contact our Steering Committee at steering (at) madsa.ga
Remember to check out our resource list. Contact the COVID-19 Steering Committee with any questions.