Confronting Nazis in Newnan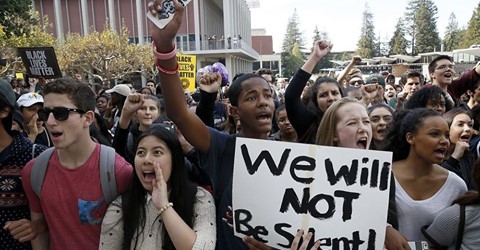 As our member Eric Robertson said, "Big ups to the people of Newnan, Coweta County and allies from metro Atlanta for standing together against hate and fascism today. Encouraged by the energy and unity of locals who mobilized."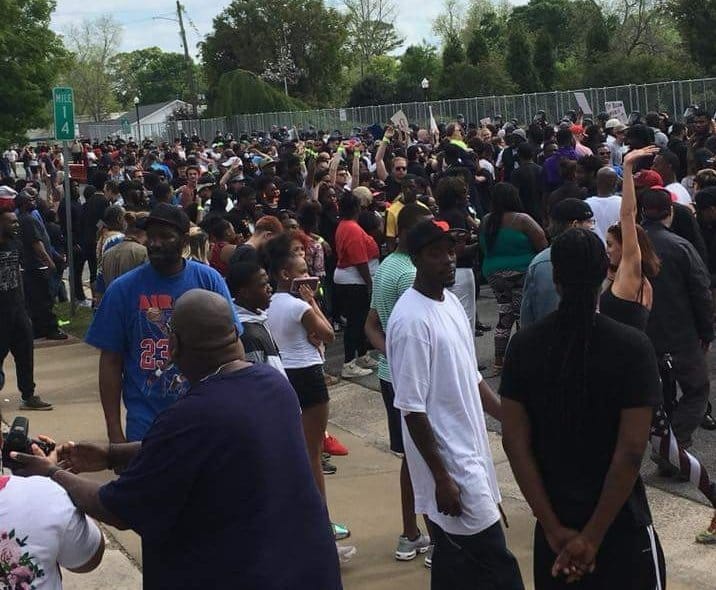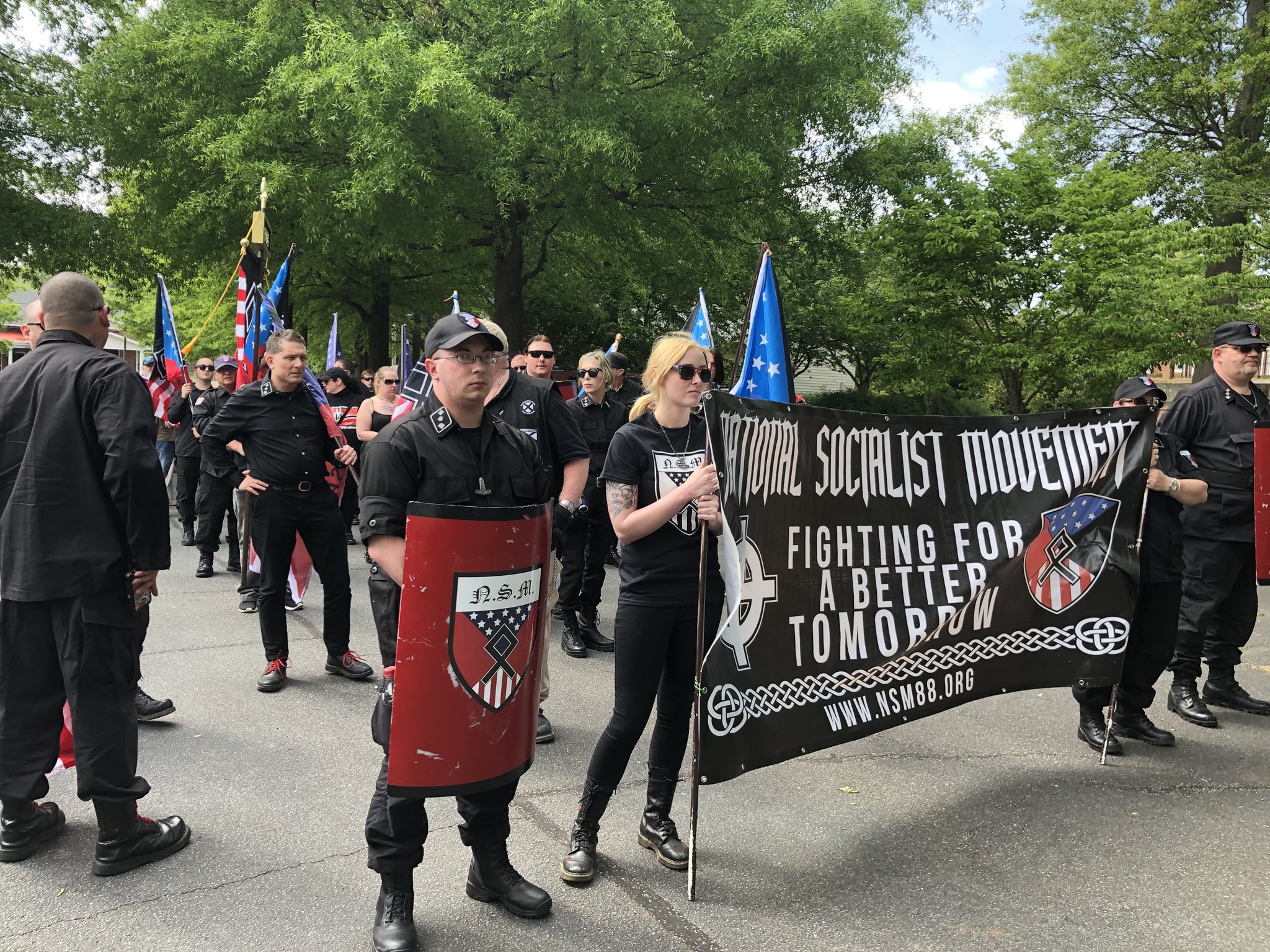 An estimated 25-35 members of the National Socialist Movement and the white supremacist group League of the South demonstrated in Newnan on Saturday, April 21, partly in commemoration of Hitler's birthday the previous day, 4/20. (top and above left left: Some of the . Right:) Hundreds of people from across the region assembled to protest, including many Newnan residents, surrounded by hundreds of police and herded through checkpoints.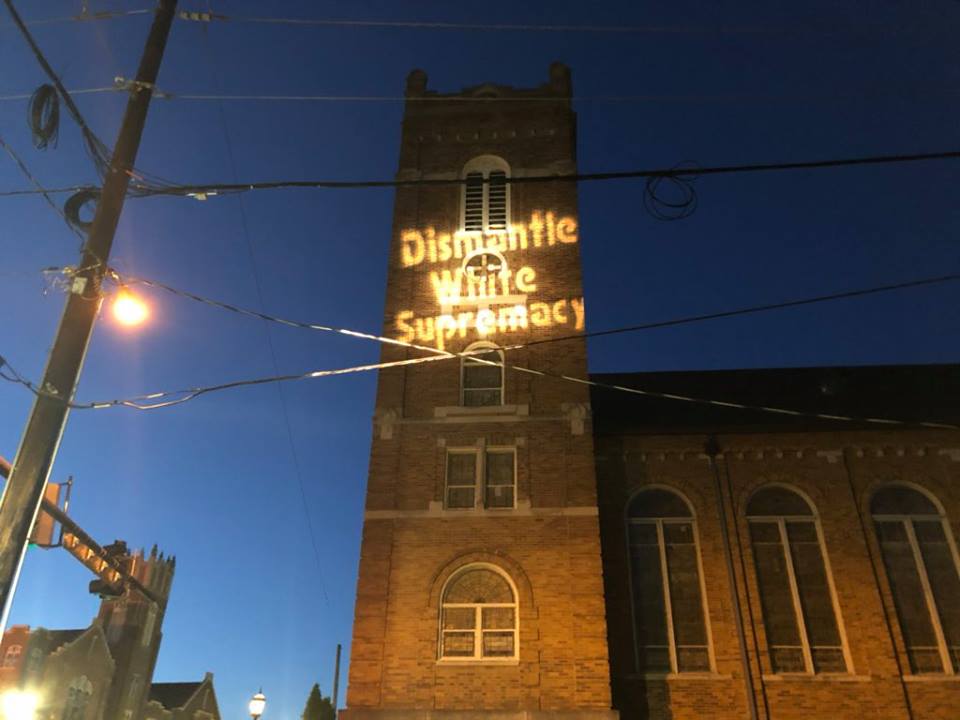 According to Gloria Tatum of Atlanta Progressive News, "ten counter-demonstrators were arrested on various charges: three on misdemeanor charges of wearing masks, one charge of pedestrian on highway, three charges of misdemeanor disorderly conduct, one misdemeanor obstruction of officers, and two charges for felony obstruction of officers." To help pay their bond and other legal expenses, donate here. The Atlanta Journal-Constitution reported that NO Nazis were arrested.
MADSA activist Daniel Hanley was arrested but is now free. The police saw him speaking on a bullhorn, dragged him off the sidewalk, threw him to the ground and charged him with obstructing traffic! SEE HIS STORY AND PHOTO BELOW THE FLIP. Thanks to all who contributed to the bond fund.
Matthew Wolfsen tweeted during the action: "The police have decided to watch the counter protesters. None of the cops are watching the Nazis. . . ." And later: "I must say: the entire time I was there, I was more afraid of the police than the Nazis." Police pointed assault-type weapons at the crowd, as numerous photos and videos on FB show.
After the rally, the Nazis held a "lighting" in West Georgia, featuring flaming swastikas. For photos of that bizarre scene, click here.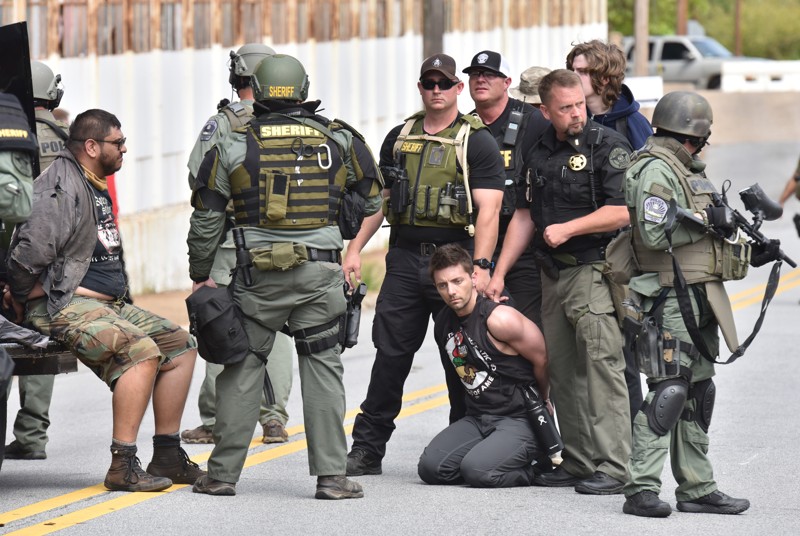 Daniel's Story:
I participated in this anti-fascist march in Newnan, alongside many friends from #NoNaziNewnan coalition member Metro Atlanta Democratic Socialists of America. I joined the march with an intention to (1) help defend Newnan's marginalized communities — immigrants, people of color, Jewish people, trans people — from the very real threat of a white supremacist terror organization with a genocidal agenda; (2) amplify and advance our own values contrary to fascism: racial justice, immigrants' rights, solidarity; and (3) interrogate the underlying racist institutions and attitudes that made Newnan a place where a white terror group would feel comfortable manifesting.
While some people traveled long distances to take a stand against fascism — as they should — we should reject the completely predictable lie that the counterprotest wasn't rooted in the Newnan community. Several organizers and detainees were from Newnan. I have many friends who live or have lived Newnan. They all participated in the #NoNaziNewnan march. Personally, I grew up not so far from Newnan, and both of my parents, who lived in Newnan for years, expressed their support, so I felt a responsibility to turn out. I also had spent some time flyering in Newnan that weekend, and I had positive conversations with supportive residents.
From the moment we stepped foot on the corner of Clark and Jackson, the police desperately searched for any false pretext to silence and repress the peaceful protest. In jail I learned that the event that precipitated the first round of arrests was a cop shouting: "GUN!" even though (1) the cops were the only people with any guns drawn, (2) firearms were effectively the only item ABSENT from the list of banned items, and (3) we were not in a "free speech zone" where this list applied anyway.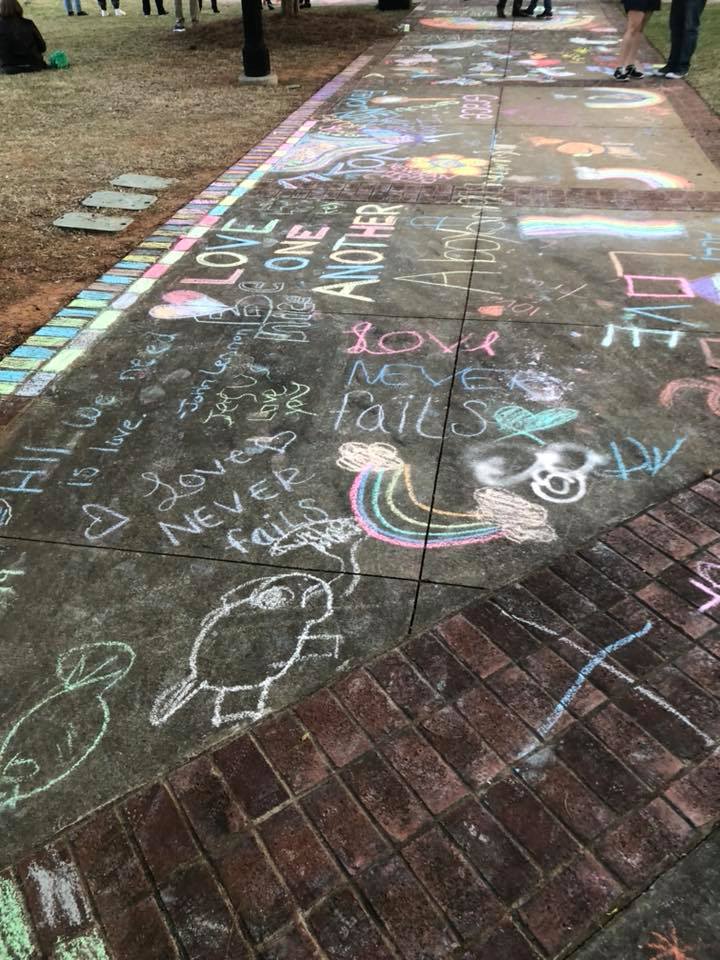 I did not witness any arrests involving masks or lawbreaking by the anti-fascist protesters. I did however see illegal, repressive violence by swarms of highly militarized, armored police, who tackled and cuffed protesters without any legal justification. I saw at least two people released from jail, after waiting for hours, without any charges at all.
In my own experience, I was not a central organizer in the march, but others encouraged me to use my megaphone to relay safety announcements and amplify our message. We agreed that my loud presence might deflect some risk away from participants who are more vulnerable to racist attacks.
At one point in the march, as we walked along a barricaded road, I led chants such as "immigrants are welcome here!" and "black lives matter!" and "cops and the Klan, hand in hand!" The cops did not like what we had to say.
In the distance, I spotted a contingent of police marching in formation down the middle of the street, clearly honing in on me while I was on the sidewalk. There was no warning or order to disperse: they simply crossed the street and pushed through the crowd on the sidewalk. They grabbed me; dragged me from the sidewalk and onto the barricaded street, closed to traffic; slammed me into the pavement; and then later charged me with blocking traffic.
They carried me to the nearest car, over two blocks away (where the streets were not blocked), and one cop maliciously twisted my wrist while changing out cuffs, resulting in excruciating pain, declaring, "See: I do things the OLD FASHIONED way."
A Latino veteran friend, Hector, expressed concern when he saw cops crushing me on the pavement. He turned away, and, after he turned his back, a cop cold-cocked him with a closed fist. They roughed him up some more, and charged him with FELONY OBSTRUCTION. Yet more evidence that the racism that manifests in these extremist white terror cells is in fact deeply rooted in state institutions. Another protester was pulled from the sidewalk shortly after that without justification. All of this has been very well documented.
I wanted to share these experiences to counter wildly inaccurate or misleading accounts in the media, in particular the shameful recent coverage by the Newnan Times-Herald. It is as though they asked the Newnan police department for a press statement, and the Times-Herald just went and published that without any journalistic scrutiny. Several detainees were available for interviews, and yet the Times-Herald even declined to take quotes from organizers.
The Atlanta Antifa coverage here describes a scene much better resembling my own experience. If you have any video footage or photos of the arrests, please contact me to let us know, as the legal team is collecting a mountain of evidence to force Coweta County to drop these charges, hold the police accountable, and ensure Newnan is not a place where nazis or militarized police can inflict terror on the community. — Daniel Hanley
UPDATE: Hector endured more brutality and more severe charges than anyone else arrested on Saturday at #NoNaziNewnan. He will release a formal statement soon, but for now he is consulting with his legal team.
Posted in News