"No Tech for ICE!"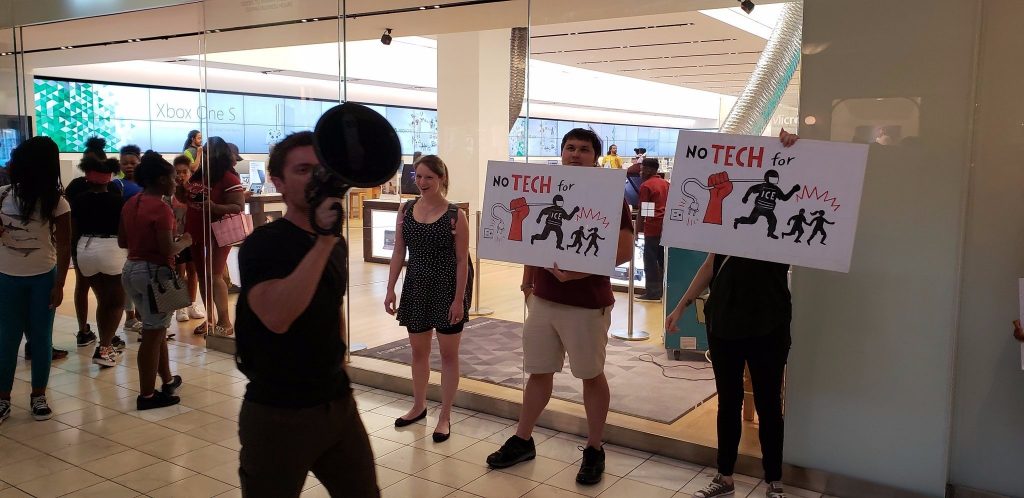 "NO TECH FOR ICE!" Saturday evening, July 14, roughly 20-30 DSA members visiting from chapters across the Southeast, Science for the People (SftP) organizers, militant tech workers, and a hundred supportive bystanders blasted this chant through the halls of Lenox Square during a surprise flash picket targeting a $19 million contract between Microsoft and the immigration police (ICE). This action was an answer to Microsoft tech workers' call for solidarity as they attempt to disrupt collaboration with fascism at the point of production in Redmond WA.
Read Science for the People's press release announcing this call to action.
Redmond-based Microsoft tech workers are outraged by their executives' willingness to profit from family separation, displacement and abuse of Latinx and Muslim communities, and human rights abuses perpetrated at the border and within ICE facilities. Recently these workers boldly launched internal and external petition campaigns asserting three demands:
Cancel Microsoft's Azure contract with ICE immediately!
Adopt a clear policy: Microsoft and its contractors must refuse work with clients who violate international human rights laws.
Commit to transparency regarding all government contracts.
DSA had prior experience advancing these demands on the west coast, in collaboration with Microsoft tech workers. According to an organizer close to the campaign, west coast DSA chapters were responsible for some of the most effective outreach actions, including flyering and banner drops.
MADSA responded to this call for solidarity alongside the Atlanta chapter of Science for the People and militant tech workers mobilized through related campaigns. In addition to MADSA's ongoing broad participation in the Abolish ICE movement, the Microsoft workers' call to action coincided with MADSA's prior contributions to the IBMPETITION.ORG campaign. Last year, MADSA had helped to build community support for IBM tech workers who pledged to refuse collaboration in any of Trump's proposed projects to violate human rights — such as a Muslim registry — rejecting IBM CEO Ginni Rometty's appeal to Trump for lucrative government contracts for security and infrastructure. The IBMPETITION.ORG campaign inspired similar efforts among tech workers at Google, Amazon, and now Microsoft.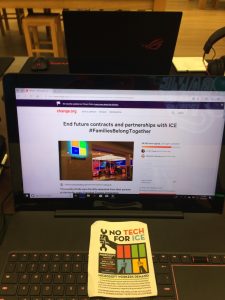 Last weekend's Southeastern DSA regional training presented a serendipitous opportunity for mobilization at the intersection of multiple struggles that had engaged MADSA members. After the conclusion of the Saturday training, several interested southern DSA organizers and activists were briefed on the roles and responsibilities for the action. Around 7:15pm, SftP and MADSA members covertly entered the Microsoft store, quietly explaining the campaign to the Microsoft retail workers: the same Redmond tech workers who had developed the products and services sold in this store want to cancel Microsoft's contract with ICE. Many of the local workers expressed agreement and shock, previously unaware that their employer was profiting from ICE's human rights abuses. While some SftP and MADSA volunteers engaged directly with the workers, others accessed the nearby display laptops, opening the petition in their web browsers and planting flyers nearby.
The temperature rose quickly in this highly policed shopping center as management and security were alerted to our outreach activities. Coalition members outside the store launched into action. A megaphone emerged from a backpack; carefully concealed signs and props were quickly distributed. Shortly thereafter, the slogans of the movement echoed through the halls of Lenox: "No hatred! No fear! Immigrants are welcome here! What's disgusting? Family busting! What would be nice? No tech for ICE!" The railings above the spectacle were packed with intrigued and supportive shoppers, many of whom joined in the chants. Meanwhile, other MADSA and SftP members worked the crowds, distributing flyers and encouraging people to sign on to the petition.
One tech worker organizer (who submitted this report) initiated a speak-out, attempting to explain the motivations behind this lively disruption: greedy Microsoft executives value profit over the lives of immigrant families, and they were willing to destroy Latinx homes and livelihoods in order to preserve their $19 million contract; however, there is hope, as the tech workers in Redmond do not share these capitalist values, and they're willing to fight for racial justice and immigrant solidarity. Workers have a democratic right to organize in their workplaces to control the purpose and output of their labor. The speaker also addressed the continuity between the Microsoft #NoTechForICE campaign and his own organizing efforts with IBMPETITION.ORG.
As anticipated, this spectacle was cut short. Picketers weaved and dodged the nearby mall security, but police officers from the mall precinct eventually accosted the protesters and attempted (unsuccessfully) to seize the megaphone. They hustled the speaker out of the mall as the crowd booed, but they made no arrests.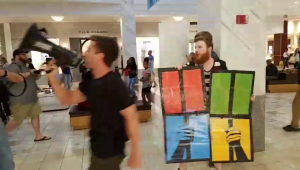 This unfortunately interrupted the team's plan to observe a moment of silence to reflect on the life of Efrain De La Rosa, killed this past week in ICE custody at Stewart Detention Center in Lumpkin, GA. Any death in ICE custody is murder, facilitated by Microsoft technology and corporate profiteers. Despite the disrespect shown by Atlanta police, we can take a moment now to express love and solidarity for our Latino brother, Efrain De La Rosa: ¡Presente!
To express solidarity with Efrain De La Rosa in urgent material terms, please consider helping his family cover funeral expenses: https://www.gofundme.com/efrain-de-la-rosa039s-funeral-expense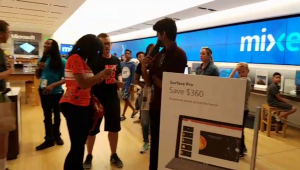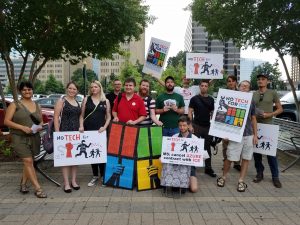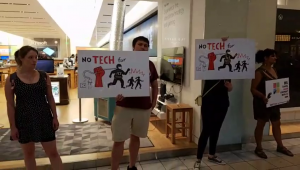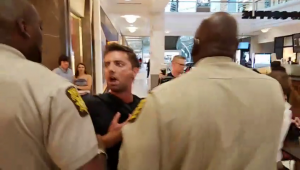 Posted in News