Voting Rights Rally Ends in Arrests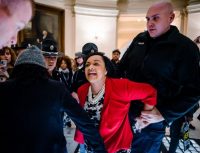 Tuesday's voting rights rally in the Ga. state capitol rotunda ended in police aggressively arresting some 16 people for making noise while the legislature was holding a meeting. After random arrests on the fringes of the crowd, their principal target seemed to be Southerners on New Ground leader Mary Hooks, who had been emceeing the rally and leading chants. She was grabbed from behind. They also arrested State Sen. Nikema Williams; two New Georgia Project canvassers; a man who had been especially vocal during the speeches; a comedienne dressed in her drag persona as "the real Donna J. Trump"; and a staffer for Men Stopping Violence. Three quarters of those arrested were people of color. After Ga. Rep. David Dreier, an attorney who had been standing next to Sen. Williams but was not arrested, intervened, all those detained were reportedly released about an hour after their arrest. Charges are pending.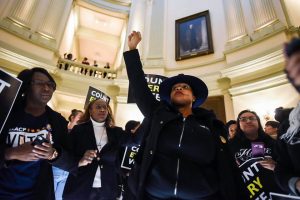 During the attack on the rally, police shoved a 70-year-old member of MADSA and Grandmothers for Peace to the ground, where she hit her head, though a trip to Grady found no serious injury. She said that while she was being guarded by a group of police in the Secretary of State's office before being taken to the hospital one of them told her she was lying about being shoved to the floor by the police and had fallen deliberately, because that's a tactic protestors use. (I was within a few yards of this incident and saw clearly that the police were the aggressors.) She observed that the police were notably more brutal than in previous arrests she had witnessed, during the Moral Monday series of civil disobedience in 2014-2015.
The National Domestic Workers Alliance has sent the following statement and petition from Sen. Williams:
"As a Black woman legislator, I was singled out in a way that my white colleagues next to me were not. I went downstairs to join constituents and many citizens of Georgia to peacefully cally for all votes to be counted. And for that, I was handcuffed, arrested, and escorted outside into a police van along with 15 others.
The crisis in our democracy is deep, not just in Georgia. People in power are abusing it and rigging the system to suppress the voices of the people. But out of great crises, movements rise to create inspiring stories of hope and overcoming.
Will you add your name to my petition demanding that Georgia count every vote in the Governor's election?
I'm proud to be with you in this,
Nikema Williams
Georgia State Director, Deputy Political Director
National Domestic Workers Alliance"
Photos: Kevin Lowery
Posted in News