Tabling for Bernie at Morehouse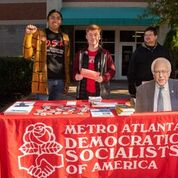 MADSA was in the house at the Bernie Sanders for President rally at Morehouse College on Nov. 21. We joined thousands of other Bernie fans, inspired by his political vision of Medicare for All, Collegefor All, a Green New Deal, and Workplace Democracy.
"Table got taken down, but the clip-boarding was very successful," said MADSA officer Cole Reardon."Sometimes it's actually nice preaching to the choir." Word is we signed up 200 people interested in joining our chapter!
See Bernie's talk here. (Photos: Steve Eberhardt. Video: Georgia Grassroots Video.)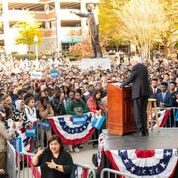 Posted in News