DSA Members run for Bernie Delegate in Georgia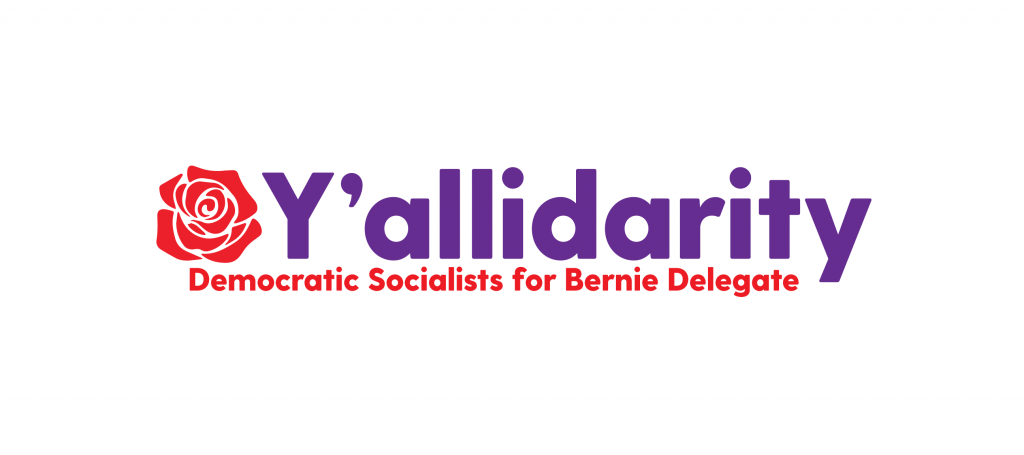 Metro Atlanta DSA is proud to endorse Y'allidarity, a slate of DSA members running to represent Georgia at the 2020 Democratic National Convention as delegates pledged to our democratic socialist presidential candidate, Bernie Sanders.
This movement is bigger than Bernie. He said it himself: "not me, us." Our members are running because even though Bernie has withdrawn, this movement is about all of us, the 99%, carrying forward the momentum behind Bernie's candidacy. We have a responsibility to continue Bernie's political revolution into a mass movement for democratic socialism that takes on the greed and hate of the capitalist class.
Even though Bernie has withdrawn, we still need to send democratic socialist delegates to the DNC to fight for working class demands: for Medicare For All, A Green New Deal, a Federal Jobs Guarantee, and a People's Bailout. The Convention will be a huge political moment for the country, so having organized DSA members on the convention floor will be critical. We need to leverage this moment to popularize democratic socialism and demonstrate to the greater working class that there is an alternative, that a better world is possible.
Registration has already closed for the Democratic Party of Georgia's online caucuses to select District-Level Bernie Delegates. If you've already registered, vote for the Y'allidarity Slate! You should get an email with a ballot to vote on Saturday, May 23rd at 9am, and you'll have until 5pm to cast your vote.
Our Slate:
District 4: Catie L, Matthew Wolfsen, Kristen Oyler, Jon Skinner (only vote for these four, leave the rest blank)
District 5: Alexander Hernandez, V. Margot Paez, Nate K, Shaheen Rana, Ben Webb
District 6: Tracy Prescott, Daniel Hanley, Jeff Corkill, Jake Schenberg (only vote for these four, leave the rest blank)
District 7: Krupesh Patel, Ramin Zareian (only vote for these two, leave the rest blank)
District 9: Dean Trippe (only vote for this one, leave the rest blank)
Our Candidates:
District 4
Catie L

It was never about Bernie — it was always about us! I currently serve as an at-large officer on MADSA's executive committee. I'm excited to represent Bernie voters from Georgia's 4th district and fight for a party platform that all working people deserve!

Matthew Wolfsen

I'm a Bernie volunteer, having spent countless hours, starting the weekend after New Year's Day, making regular trips into South Carolina, mostly Greenville, to knock doors. I want to spend every last moment that I can advocating for Medicare for All, the Green New Deal, and College for All. Bernie's campaign motto is "Not me, Us" and I will do everything in my power to ensure that his platform lives on so a younger generation can champion that same exact policy to become our future leaders.

Kristen Oyler

The current crisis has made it glaringly obvious that the status quo protects the rich and corporate interests at all costs, even at the expense of the lives and livelihood of average Americans. In these dark times, Bernie and the movement of devoted activists he inspired have renewed my hope that we can change our country for the better. As a volunteer, I canvassed in early primary states and sent over 50,000 texts to build support for the Bernie 2020 campaign. I would be proud to represent Bernie Sanders and the socialist movement in Milwaukee.

Jon Skinner

Bernie's greatest legacy is giving millions the permission to ask for and expect more. This Bernie journey has meant everything to me, from canvassing in South Carolina and Georgia to phone banking folks in Washington & Nevada after work. Working people are suffering now more than ever and it would be my honor to go fight for them in Milwaukee. No more Republican-lite.
District 5
Alexander Hernandez

I helped organize canvasses and debate watch parties all across Atlanta as part of the MADSA for Bernie campaign. This work was never meant to be easy. I'm excited to push the boundaries of the possible!

V. Margot Paez

I'm a former Bernie Victory Captain and member of DSA. My mission is to make "Not Me, Us" a political reality. I look forward to working with my fellow delegates to take a truly progressive and socialist agenda to the Convention this summer.

Nate K

I helped organize the MADSA for Bernie canvassing program, in which we knocked 10,000+ doors all across Atlanta with the help of hundreds of volunteers. We may have lost this battle, but the class war continues, and we need to cohere the Bernie movement around a democratic socialist agenda. I'm excited to carry this momentum forward, through the DNC and beyond!

Shaheen Rana

I am a DSA member and I support Bernie Sanders for President. I support Bernie's platform for Medicare for All, Green New Deal, and abolishing ICE. I have canvassed and phone banked for Bernie, and am excited to represent the socialist movement in Georgia.

Ben Webb

As a committed Socialist and one of the organizers of MADSA for Bernie, I'd be proud to represent Bernie's revolution in Milwaukee. As we stumble ever closer to disaster with COVID-19 and the climate crisis, we must fight back against the billionaires that control our society and the party establishment. We must fight against the narrative of restoring business as usual, both in the fight against COVID and against Trump, we must fight to transform our society through policies like Medicare for All and a Green New Deal, we must fight capitalism itself and forge a truly just world.
District 6
Tracy Prescott

I've been a Bernie supporter since before 2015. I have been active in Georgia electoral politics and activism as a known DSA member. I'm a mom of badass kids, including a queer daughter who organizes for YDSA at her college, a communist 17-year old son, and two socialist feminists ages 19 and 17. The political revolution must go on bc status quo is not working for working people. ✊🔥

Daniel Hanley

In 2016, I helped mobilize a van full of Bernie delegates and other radically democratic agitators to Philadelphia, where we demanded a party representing working class interests and values over the DNC's wealthy donors corporate sponsors. Collectively our efforts resulted in democratic reforms to the Democratic Party, including limitations on the roles of superdelegates and progressive improvements to the party platform. In 2020, we face similar questions of electoral legitimacy and escalated crises of capitalism, so I'm even more committed to amplifying disenfranchised voices inside and outside the convention.

Jeff Corkill

I supported Bernie in 2015 and this time around served on the MADSA for Bernie Steering Committee. I'd be honored to go to Milwaukee to support Bernie & socialist policies and represent DSA.

Jake Schenberg

I am proud to be a part of the Bernie revolution. I phonebanked, textbanked, and served as a Victory Captain because I believe we must build a movement for equality, for justice, for Democratic Socialism. I would be honored to represent Bernie's campaign and our movement at this year's Democratic National Convention.
District 7
Krupesh Patel

I came into the political revolution because of Bernie Sanders. I want to continue the fight for a habitable planet in Milwaukee. I been an active member of DSA since 2017 and currently help facilitate the eco-socialism working group

Ramin Zareian

Bernie's 2016 campaign inspired me to get involved in politics and embrace socialism. It would be an honor to represent Bernie's supporters and the socialist movement in Georgia's 7th congressional district.
District 9
Dean Trippe

I'm a non-binary parent of three, an elementary school teacher, and comic book artist. I am wholeheartedly behind the #NotMeUs movement and am a proud DSA member. I support Bernie Sanders and the platform he represents, and I am a socialist who will represent our values and our solidarity in Milwaukee!
Posted in News