Anthony Hill, Black Lives Matter, and DSA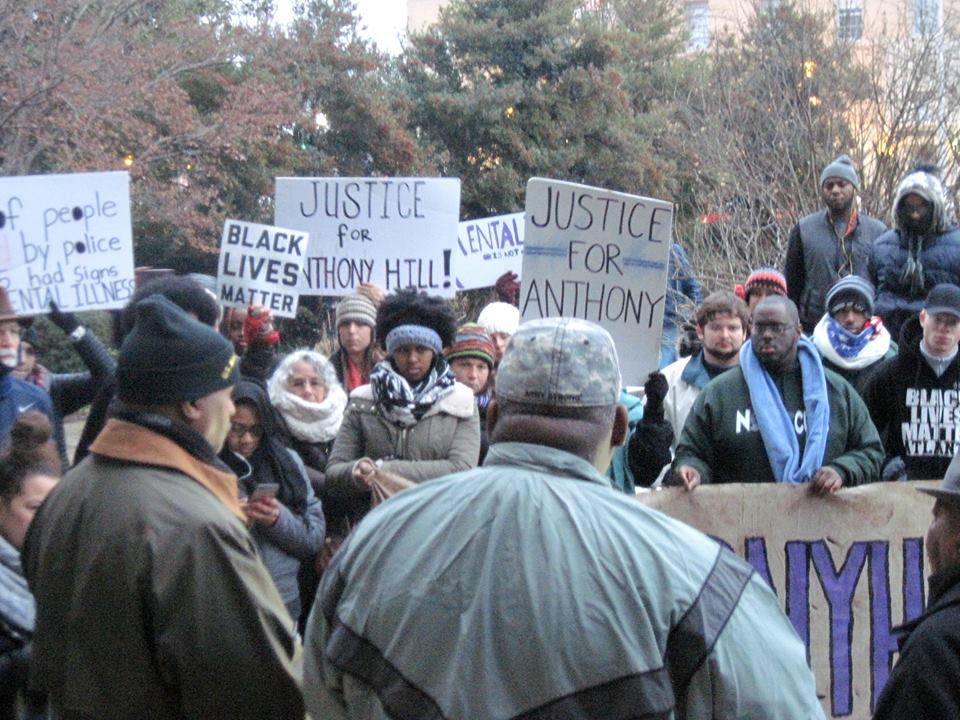 Anthony Hill was a 27-year-old African-American Air Force veteran whose bipolar disorder was exasperated by his deployment overseas. During a psychotic episode, a naked Hill was shot and killed outside his apartment by DeKalb County Police officer Robert Olson in March of 2015. Local activist groups who led marches and rallies demanding an indictment of the accused officer included Rise Up Georgia and #It'sBiggerThanYou, as well as myself and several fellow Atlanta DSA members. We also collected funds for the cause at our Socialist Dialogue. The struggle culminated in a three-day campout outside the DeKalb County courthouse during the week of January 17th. The officer was successfully indicted on all six counts against him.
I first became involved with DSA in the fall of 2014, as part of my larger political realignment brought on by the Black Lives Matter movement. After spending the summer volunteering for a moderate Democrat in Georgia, I began a semester at American University in Washington D.C., taking classes while interning for another moderate Democrat. Fully enmeshed in mainstream "progressive" politics, I was all set to become a neo-liberal Democratic Party apparatchik. However, two events transpired to lead me to the socialist light. The first was my involvement with the Metro Washington D.C. DSA chapter, which I discovered through a mutual acquaintance. The other crucial event was the non-indictment of the police officers who murdered Eric Garner. The murder and rise of the Black Lives Matter movement brought into focus the entrenched racism that formed the bedrock of the U.S. society and economic system, the critical link between capitalist exploitation and white supremacy and the need for a total replacement of capitalism with socialism to create a better world.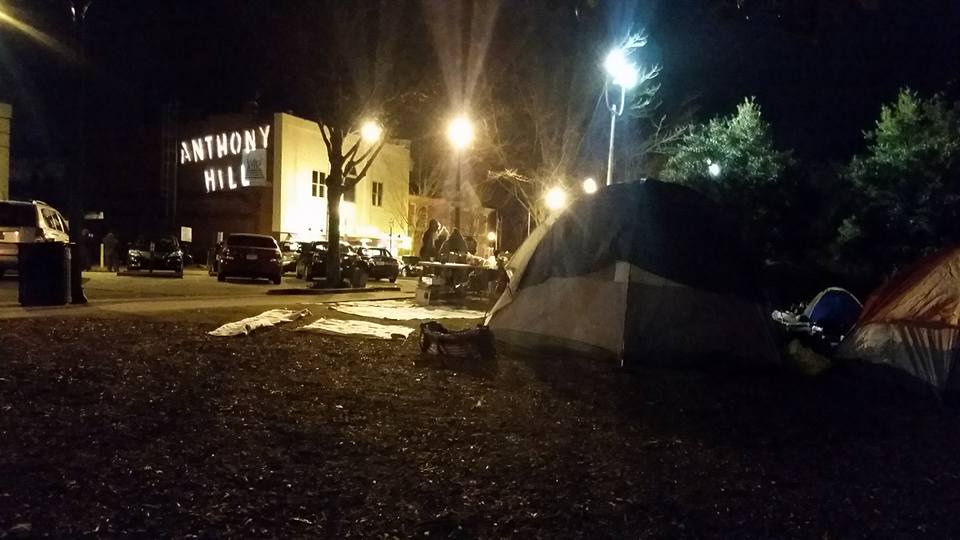 After returning to Georgia, I quickly joined the Metro Atlanta DSA chapter, which was already involved with local Black Lives Matter groups. Besides solidarity with the events in Ferguson and Baltimore, Atlanta BLM activism mostly centered around the murder of Anthony Hill.
The events surrounding Anthony Hill show the power of Black Lives Matter in countering the racial policing that predominates in the U.S., while connecting it to the larger white supremacy that pervades our culture. However, we must be aware of the time and resources required for such a struggle. That a campout was needed to secure even the limited victory of potentially finding a police officer guilty shows how much time and energy these fights require. This is especially true in Georgia, where legal protections for officers are considered the most extensive in the nation. In the case of a grand jury, Georgia law gives accused officers access to the grand jury's meeting, as well as the opportunity to address the panel without the threat of cross-examination or a rebuttal by prosecutors*. (Photo: Daniel Hanley)
Bringing all these lessons together, it is critical for DSA to aid the Black Lives Matter movement in their struggle. Since outside mass struggle is the critical factor in securing legal victories (albeit minor ones), it is important for DSA locals to aid local Black Lives Matter-affiliated groups with grassroots organizing and mobilization. Even things as simple as phone banking for small, local events can have huge impacts on the momentum surrounding campaigns. DSA has a huge opportunity to connect with newly radicalized people of color, and it is an opportunity we can not pass up.
If you want to work more around the Black Lives Matter movement and other anti-racism work, you can become a part of the DSA Anti-Racism Working Group by emailing me at acardo1120@gmail.com.
Blinder, Alan. "Georgia Police Officer Indicted for Murder of Unarmed Black Man." The New York Times. 2016. http://www.nytimes.com/2016/01/22/us/georgia-police-officer-robert-olsen-anthony-hill-shooting.html.
Adam Cardo is the President of Emory University Young Democratic Socialists and a member of Metro Atlanta Democratic Socialists of America.
Posted in News