MADSA Marches, Tables With Pride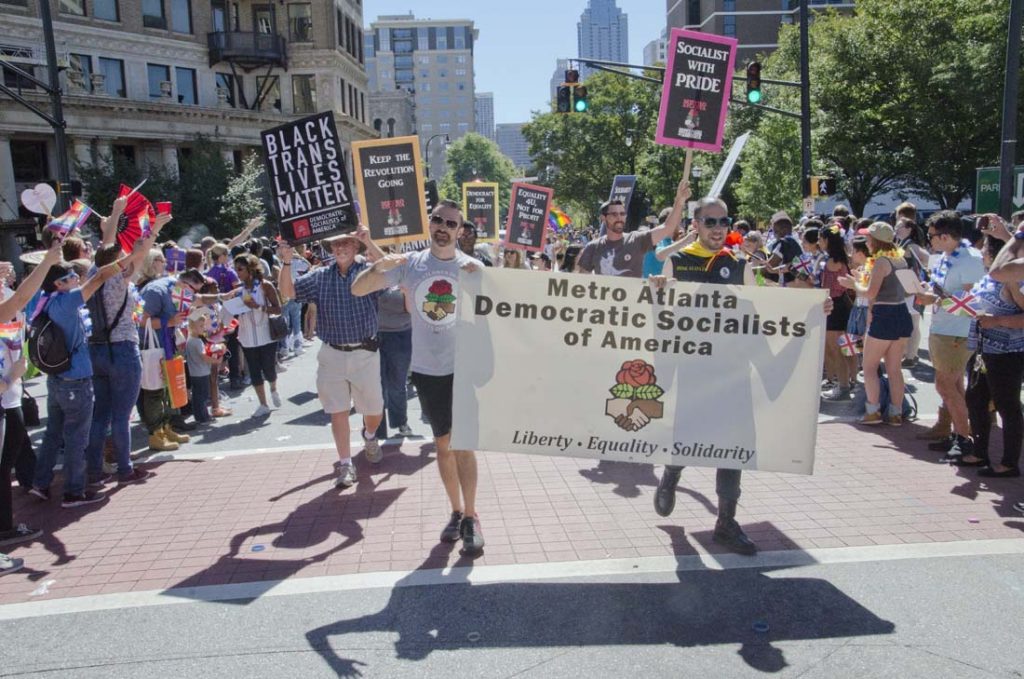 The MADSA Pride festival booth was even more popular this year, with a steady stream of visitors all weekend. The button maker never cooled off; we gave away about 2,000 buttons saying "Black Lives Matter," "Metro Atlanta DSA," and "LGBTQ Liberation, not Rainbow Capitalism."
A young student dropped by to say he is starting a YDS chapter at his high school (see photo)! Over 120 people signed up for our email list and took literature; we hope we see a lot of you at our open house Oct. 16 (2 pm at the Decatur Recreation Center) so we can get to know you better.
The parade contingent was lively and greeted with cheers, as always.
Several new friends, not yet members, turned up. Daniel's bullhorn lifted our spirits; the crowd response was especially strong when he led us in chanting "Black lives matter! Black gay lives matter!" Black trans lives matter! Black lesbian lives matter!" and "What does solidarity look like? This is what solidarity looks like!" As the democratic socialist contingent marched past the Peachtree-Pine shelter, currently under attack by the Atlanta City government, the group paused briefly for a statement of solidarity with the Atlanta Task Force for the Homeless: "Housing is a human right! Not just for the rich and white!" Multiple residents of the shelter raised fists in agreement.
Member Dave Hayward, director of the Atlanta LGBTQ oral history project "Touching Up Our Roots," was a grand marshal.
Posted in News