Call for Tent City for Equity Nov. 7-8
The ATLisREADY community organizing body is issuing a call for all Atlantans to join us on Monday November 7, 2016 at Atlanta City Hall for our 24 Hour Tent City for Equity sleepout event. This will be a day of action, awareness and solidarity that centers on Atlanta's homelessness and equity crises and the factors that cause them to persist on the eve of "election" day.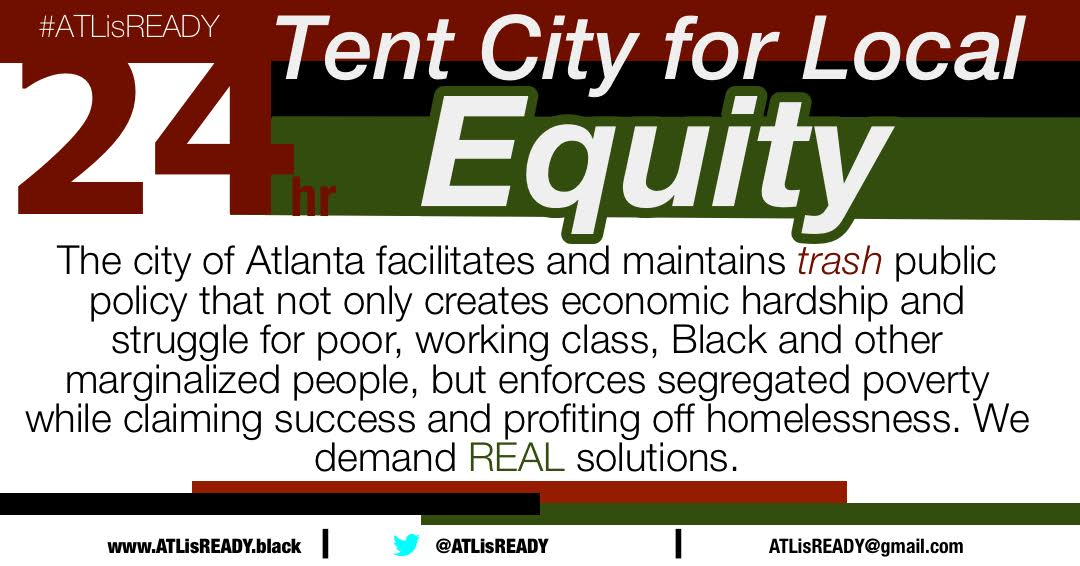 Because the day will center on Atlanta's equity crisis as it applies to people living without homes and those at risk of the same fate we are calling for an all hands on deck resource drive effort to gather donations including: non-perishable food items, clothing (especially winter wear), first aid supplies, hygeine kits, hand warmers and any other items that may fit the needs of individuals living without stable homes.
We also invite any organizations or individuals who are organizing resource drives separate of this event to take this opportunity to distribute your items on-site and connect with others doing similar work to help further these efforts.
This tent city sleepout will also coincide with the ATLisREADY Pack City Hall Event which will begin at 1pm.
ATLisREADY would like to invite all artists, entertainers, photographers and any other creatives interested in filling the space with your work to come out as well and keep us in positive, revolutionary spirits througout the day.
This will be a full 24 hour sleepout event and we encourage you to bring:
Tents, blankets, heaters, hand warmers, warm bevarages, bottled water, hygeine kits and other supplies in preparation.
SEE: ATLisReady on Facebook and look for updates.
Posted in News