Packed Meeting Shares Info on Local Actions
More than 80 people crowded into our meeting space at the Open Door Community (ODC) Feb. 11. A majority were new and potential members. We are looking for a larger space for our April meeting. (Photo: Reid Freeman Jenkins)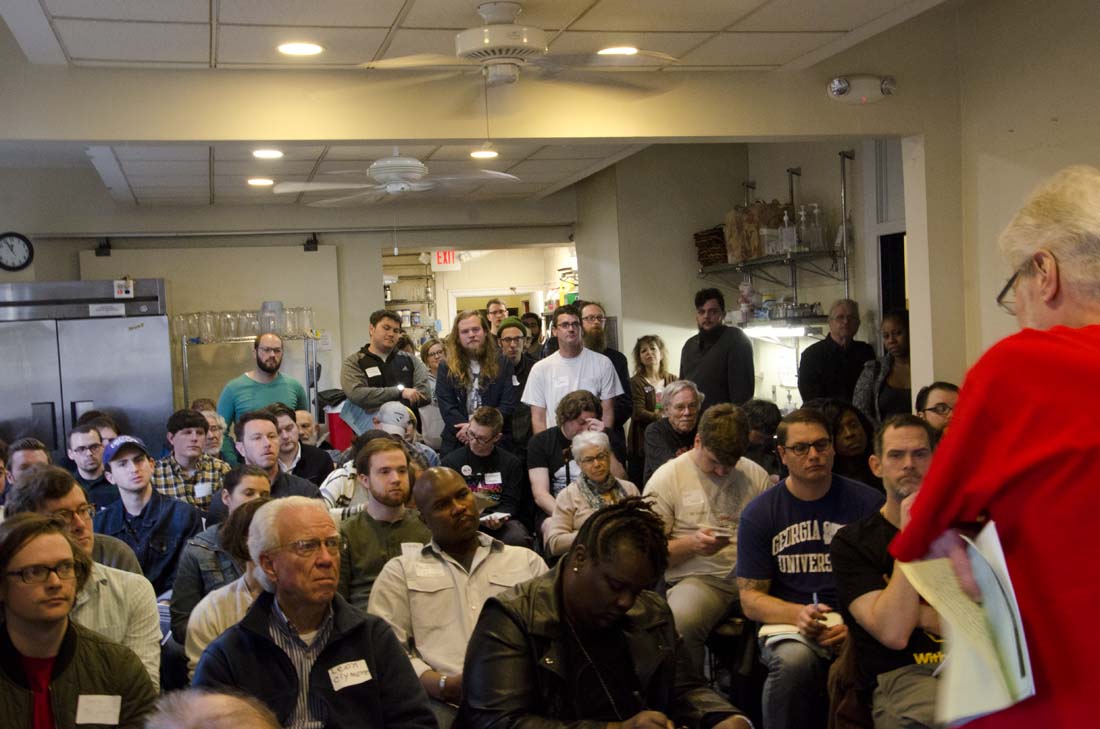 After ODC founder and MADSA member Ed Loring gave a heartfelt farewell (he and others are closing ODC and moving to Baltimore), Hank Stewart read an inspiring poem, "Don't Stop in a Storm," clearly a metaphor for our challenge in the current political situation. Then, several of our members and allies reported on our activities and opportunities for local activism:
Ruth Ann Thomas of the Atlanta Jobs with Justice coalition alerted us to Economic Justice Day at the Georgia Capitol, 10 am, Wed. Feb. 15, and plans for Atlanta's second annual May Day/International Workers Day festival Sun. April 30, followed by an action (to be determined) May 1. Volunteers are needed (contact Barbara@freejoye.com).
Ayketa Iverson, national recruitment coordinator for the AFL-CIO Organizing Department, invited applications for union organizer jobs. Contact: aiverson@aflcio.org or 404-766-5050.
Justin Howell, deputy director for the International Rescue Committee's Atlanta branch, described IRC's efforts to help refugees, and the recent outpouring of community support.
Larry Keating invited us to sign up now for "Gentrification and Equity," the sixth annual bus and study tour of inner city neighborhoods threatened by gentrification and stadium development, March 25. We will meet with community organizers and experts for an in-depth look at what is happening to our city and the neighborhood resistance, followed by an optional action. For program details and to sign up click here.
Two speakers highlighted important local electoral campaigns: Joe Corrado updated us on Sen. Vincent Fort's campaign to become Atlanta's most progressive mayor. A campaign party will take place at the Georgia Beer Garden at 7 pm, Wed. Feb. 15. MADSA member Khalid Kamau is running for a council seat in the new City of South Fulton on a very progressive platform and needs volunteer canvassers ASAP, as early voting for the March 21 election begins Feb. 27. South Fulton is the second largest city in Georgia, with the sixth largest population. Go to www.khalidCares.com
Barbara Segal and Barbara Joye reported on the Jan. 20 "People's Inauguration," the first in a series of actions by the new Georgia J20 coalition to protect the human rights of vulnerable populations, demanding that our city government declare Atlanta a sanctuary city and meet 19 specific demands. As of Feb. 11, Mayor Kasim Reed had not responded to the 500 demonstrators who presented the demands on Inauguration Day. See story and photos below; for the demands and list of member organizations click here.
Adam Cardo coordinates the Jacobin Reading Group, which holds discussions based on current articles and topics from the popular Jacobin magazine. For date, topic and place of the next meeting contact: acardo1120@gmail.com.
Ray Miklethun, coordinator of MADSA's Education Working Group, announced a new 5-week study group based on Jacobin's short anthology "The ABC's of Socialism," and our upcoming Democratic Socialist Dialogues (see calendar).
Daniel Hanley reported on his courageous efforts to organize his co-workers at IBM to oppose their CEO's membership on Trump's business council, which contradicts the company's official values of inclusiveness and respect for immigrants and LGBTQ people. The petition currently has 2000 signatures. (See Daniel quoted here in the NYTimes Feb. 13!)
Dave Hayward invited us to the third annual "Our Founding Valentines" celebration of Atlanta's LGBTQ pioneers, 6:30-9 pm, Wed. Feb. 15, at Out Front Theater, 999 Brady Ave., Atlanta 30318.
Finally, Reid Jenkins shared the sad news that President Obama denied clemency to long-time American Indian political prisoner Leonard Peltier. For info on Peltier's case (previous to the denial) click here.
Posted in News