Khalid Kamau Wins So. Fulton City Council Seat in Landslide!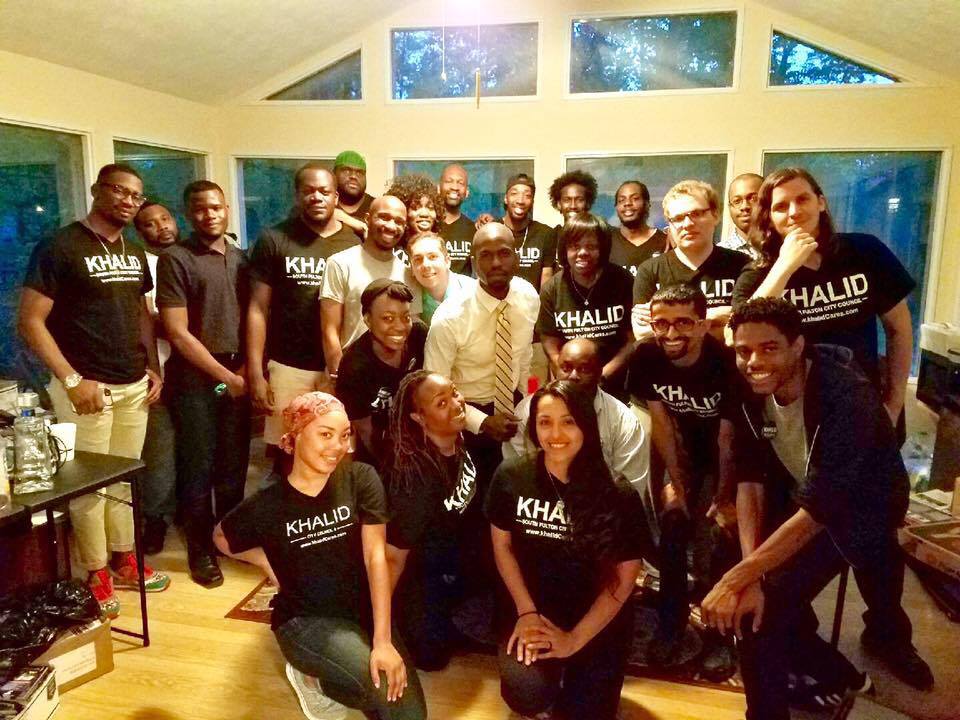 Khalid kamau, a Democratic Socialists of America (DSA) member and endorsed candidate for City Council in South Fulton, Georgia (center in photo), won in today's election with 67 percent of the vote. Kamau defeated Charlean Parks, who finished second in the five-way primary race on March 21st. In addition to DSA, he was endorsed by Our Revolution, Teamsters Local 728, and Street Groomers.
"Far too many elected officials start their day thinking of your boss instead of you, but the working people of South Fulton will have a City Council member on their side: khalid kamau," explained Maria Svart, Democratic Socialists of America's national director. "Khalid's win today is a tremendous victory for his community and a shot across the bow for politics as usual nationwide."
Erin Parks, a Metro Atlanta DSA chapter member and kamau campaign volunteer expressed enthusiasm: "Khalid's campaign and victory prove that teamwork and a people-centered platform can prevail against all odds. His win is a harbinger of things to come in the Metro Atlanta progressive movement."
Khalid is a co-founder of the Atlanta chapter of Black Lives Matter and a labor organizer for the Amalgamated Transit Union. As an active member of Atlanta's Neighborhood Planning Units, he helped develop a neighborhood watch program and negotiated on behalf of his community in development projects. Khalid is also active in environmental justice and LGBTQ rights advocacy.
Khalid entered today's runoff election after coming in first place in a five-way primary election held in March with 43%. In that race, khalid won twice as many votes as the next runner up, and the highest percentage of any candidate running for any office in South Fulton. DSA members across the country made thousands of phone calls on behalf of khalid for both rounds of the election.
Khalid is the second DSA member to win local office this month. Dylan Parker was elected to Rock Island, Illinois City Council as 5th Ward Alderman on April 4th. There are now 14 DSA members holding public office, including Carlos Rosa, Chicago's 35th Ward Alderman; Mike Sylvester, of the Maine House of Representatives; and Julie Ann Nitsch, Austin Community College Board of Trustee in Texas.
---
Khalid was born and raised in the City of South Fulton, GA, until going to school in Ithaca College, New York. He chooses to use lower-case letters for his name as an homage to his Yoruba roots — it shows a stronger tie to the community than to the individual, a sentiment echoed in his activist work and community outreach projects.
In addition to his voluntary activism, khalid also has a real working person's experience. He first worked as a financial analyst for multiple non-profit agencies, building his understanding of the economic aspects of organizations and the importance of meaningful budgets. When the economy crashed, khalid began to work multiple blue-collar jobs including working on telephone polls and as a bus driver for MARTA (Metropolitan Atlanta Rapid Transit Authority). Khalid dutifully fought outsourcing of MARTA's Mobility Service workers, which led him to fully develop his interest in politics. His experience with these types of jobs served to strengthen his desire to fight for labor unions, living wages, and employee rights. Undoubtedly, khalid has an expansive understanding of the needs, hopes, and desires of the middle class, and a strong drive to fight for them. (From a DSA press release)
Posted in News