DeKalb County Votes to Remove White Supremacy Monument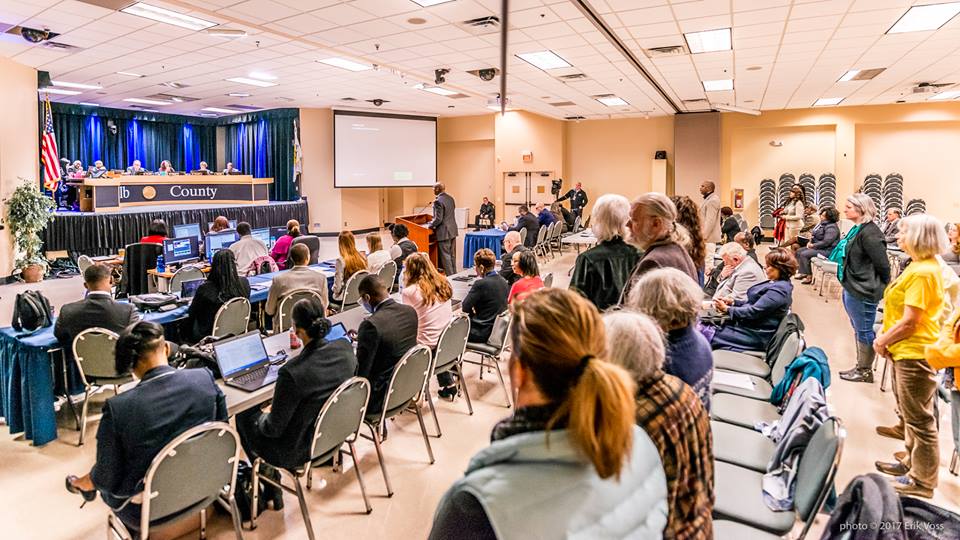 (MADSA is a partner of Hate Free Decatur. DSA's Southern Caucus endorsed a "Tear Them Down!" campaign for the removal of Confederate monuments, at DSA's 2017 national convention, while recognizing that this is just one aspect of the larger fight against white supremacy.)
Decatur, GA: On Tuesday, January 23, the DeKalb County Commission voted 6 to 1 in favor of relocating the Confederate monument from Decatur Square. The sole dissenting vote was Commissioner Nancy Jester. This is a historic moment in Georgia history, as the Commissioners affirm their commitment to stand to represent all people in DeKalb County regardless of race. The Commissioners showed that they understand the monument was erected in 1908 to celebrate the continued subjugation of black residents in DeKalb County, and that they reject the continued celebration of the men who took up arms against the United States to defend slavery and the Confederacy.
With this resolution, the County will solicit proposals for relocation of the monument to another publicly accessible space to stay within the confines of current state law OCGA 50-3-1(b), which protects Confederate symbols and monuments. This law was put into place in 2001 as a compromise measure to remove the Confederate battle flag from the state flag of Georgia but has yet to be challenged in court. This law contains specific provisions allowing for the relocation of such monuments for the purposes of preservation, protection, and interpretation. The resolution also includes plans to lobby for the repeal of the law as part of the DeKalb legislative agenda for 2018.
We commend the Commissioners who voted in favor or relocating this historic symbol of white supremacy on taking in taking a courageous stance against the continued hatred and bigotry that this monument represents.
Hate Free Decatur and our supporting organizations including Beacon Hill, Atlanta, and DeKalb County chapters of the NAACP, along with our numerous community partners, look forward to continuing the work to address the remaining systems of racial injustice within DeKalb County. We will update you as the process for relocation progresses.
With love and solidarity,
Hate Free Decatur
Posted in News