Atlanta Hosts National DSA Leadership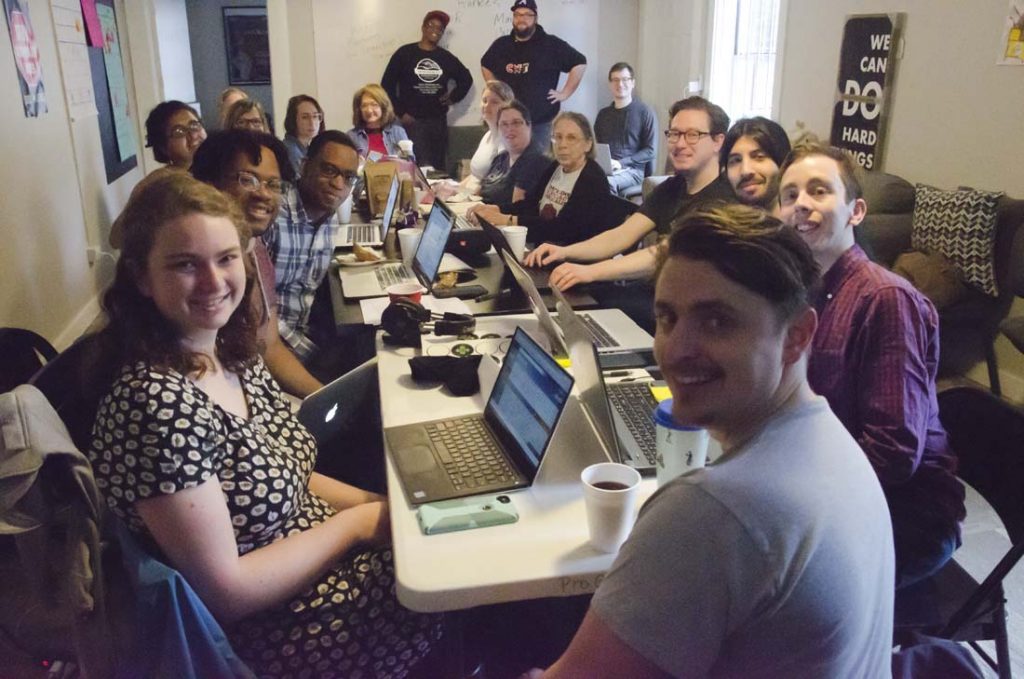 We were recently honored to host a quarterly meeting of DSA's National Political Committee (NPC), the folks we elected in August to guide the organization's work between conventions, plus our awesome National Director Maria Svart. This gave MADSA a chance to get to know them better and show off our chapter, which was praised highly by our guests.
We provided solidarity housing and transportation (coordinated by Jeb Boone); held a very enjoyable meet-and-greet at the Georgia Beer Garden on April 13, thanks again to owners member Johnny Martinez and Brandon Ley (photo: Michael Cole; Adam Cardo and Maria Svart on stairway); and joined our guests for dinner at Noni's restaurant April 14 (meals organized by Jeff Ratto). Jeb live-streamed and Scott Douglas, Speck Pratt, Jeff Ratto, and Matthew Wolfsen provided closed captioning, so that DSA members everywhere with an appetite for long meetings could observe the proceedings. Michael Lavender, Adam Cardo, Reid Jenkins and others helped with rides. It was all made possible by the hospitality of our coalition partner Atlanta Jobs With Justice, who offered us their meeting room at short notice.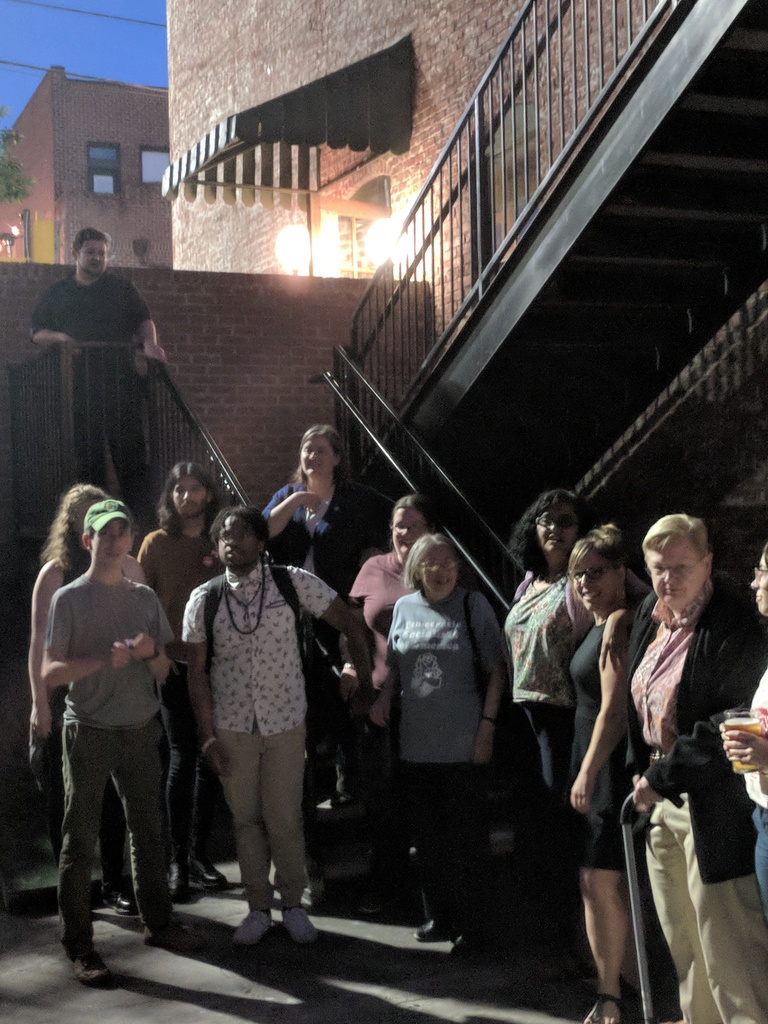 The meeting covered lots of business items such as finances, but included discussions of gun control, labor and electoral issues from a wide range of viewpoints. Minutes will be posted on the new national announcements page. Photos: Left, by Reid Freeman Jenkins. Rear L to R, standing: Atlanta JwJ Director Shannan Reaze; Jeb Boone; seated: Scott Douglas. Top center: Maria Svart. Clockwise from Maria: Catherine Hoffman (Detroit), Theresa Alt (Ithaca NY), Chris Maisano (NYC), Ajmal Alami (YDSA co-chair), Christian Bowe (Central NJ), Zac Echola (Red River Valley, ND), Michelle Fisher (YDSA co-chair), R.L. Stephens (Houston), Del Balogun (Chicago), Ravi Ahmad (NYC), Allie Cohen (Knoxville), Ella Mahoney (NYC), Frances Rozi (parliamentarian). Christine Riddiough (DC) is at right of Beer Garden photo.
Member Matthew Wolfsen commented: "I had the opportunity to grab dinner with the visiting DSA's NPC who oversee the entire organization's direction. My thoughts were pretty simple. They are just good-hearted people. And that's so refreshing and rare to see in a politically and nationally recognized organization."
Posted in News