Still Fighting to Remove Decatur's Confederate Monument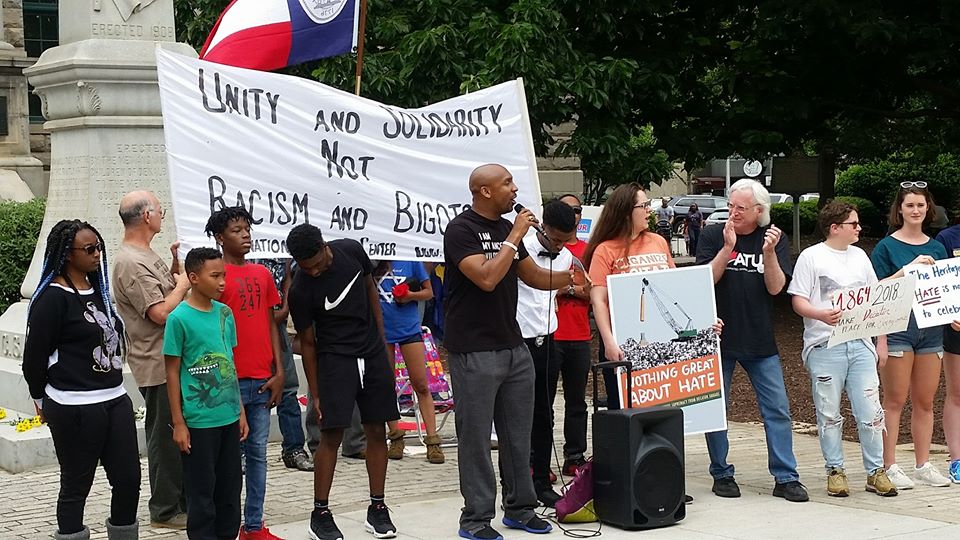 MADSA joined others in yet another rally against the infamous "Lost Cause" monument in Decatur Square on Saturday, May 5. Member Daniel Hanley described the scene: "Liberation Lawyer Mawuli Davis, Beacon Hill Branch – NAACP, and Hate Free Decatur give ample credit to the young people and students leading the movement against symbols of white supremacy as well as institutional racism. Meanwhile, neoconfederate slavery enthusiasts heckle the youth calling for justice." At DSA's national convention, the Southern Caucus endorsed a "Tear Them Down" campaign.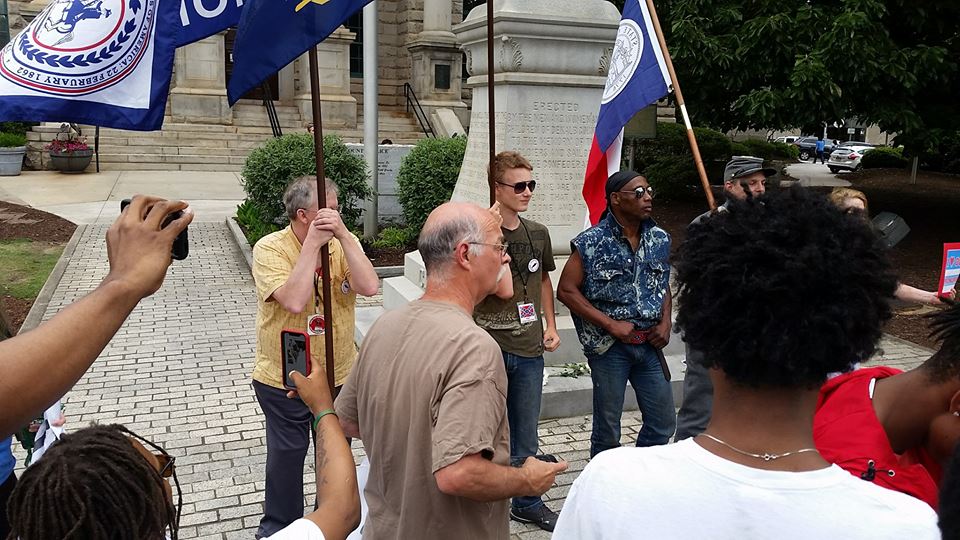 A press release from Hate Free Decatur explained:
The DeKalb County commission, which owns the monument, voted to remove this symbol of white supremacy on January 23 but has not yet identified a new location for the monument. According to Mawuli Davis, President of the Beacon Hill NAACP Organizing Committee, "The refusal of other locations to take on this monument shows how successful educational outreach has been in spreading the true story of this white supremacist monument."
Coalition members have learned that the DeKalb County Commission will consider a proposal on Tuesday, May 8 to move the monument to another part of the square. Says Sara Patenaude, historian and co-founder of Hate Free Decatur, "the location of the monument on the courthouse square is just as much an expression of white supremacy as the words engraved on it." . . .
The work to relocate the DeKalb confederate monument began last August, after the murder of Heather Heyer by white supremacists protesting the removal of a confederate monument in Charlottesville, VA. DeKalb activists gathered nearly 3,000 signatures calling for the removal of the Decatur monument, held a well-attended march in September 2017, and convened a community history panel in October 2017. The Decatur City Commission, which maintains the square where the monument is located, has also passed a resolution calling for its removal.
The DeKalb monument was erected in 1908, the same year Georgia passed a constitutional amendment denying black men the right to vote, and just two years after the white supremacist Atlanta race riots. A state law passed in 2001 updated the Georgia state flag from using the confederate battle flag to the current confederate "stars and bars" layout. This same law prevents the destruction of confederate memorials but allows for their relocation. The coalition supports Commissioner Mereda Davis-Johnson's call for the creation of a task force to identify alternative county-owned locations for the monument. The coalition and community reject any plans to keep the monument on any portion of the Decatur Square.
Posted in News