Our Youth Section (YDSA) Growing Fast: Ga. Tech, Athens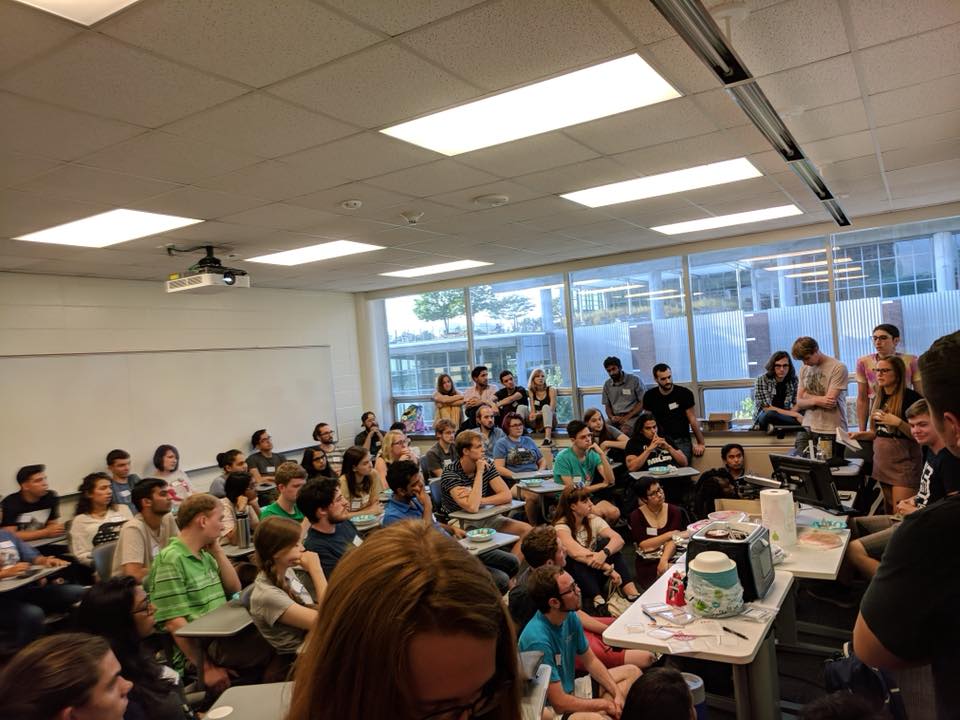 Ga. Tech Young Democratic Socialists of America (YDSA) drew a standing-room only crowd at its first meeting of the school year, with 65 in attendance. Mathew Wolfsen reports that they are planning four campaigns aimed at material improvement in student living conditions:
1) GT Dining/Sodexo: Inspired by the large-scale outbreak in norovirus-related illness likely caused by poor food handling which happened last spring, it has been brought to our attention that Sodexo's contract is running out this year. One other company has placed a bid to run GT dining, Aramark. With both companies being rife with abuses and both involved in servicing the prison industry with scandals of rotten food served to prisoners, we would like Georgia Tech to instead look at following the pathway of our local rivals in Athens. UGA decided to keep their dining services in-house, resulting in nationally acclaimed dining services and a critical lack of participation in the prison industrial complex.
2) Mental Health/Ridgeview: Inspired by several horror stories outlining the failures of mental health services at Georgia Tech, it has come to our attention that this is also a service that Georgia Tech outsources to a private company, namely Ridgeview Institute. Several students have been involuntarily forced to go to this facility which is rife with allegations of rape and general abuse of patients. After three days of suffering they are sent home with medical bills of up to $1000, none of which the school will pay for. Perhaps it's time we end our partnership with Ridgeview, and that's what YDSA will be advocating for.
3) Home Park Tenant Organizing: Inspired by the discussions around campus safety north of campus, an extremely rundown neighborhood that's run by three slimy landlords, Homepark is a region where many students live in severely rundown homes. With stories of large rat infestations (despite high pest fees), caved-in roofs, broken facilities, high rent and fraudulent charges, it is clear that there needs to be a larger effort to tell the landlords of that region that they must take better care of their property for the safety and living conditions of students. YDSA will be supporting the effort to organize tenants in that area.
4) Queer Action: Inspired by the events that followed the murder of Scout Schultz, it is clear that the LGBT action team was not taken seriously, as several individuals who staffed it ended up being fired due to widespread corruption at the school. Georgia Tech continues to have a serious lack of gender-inclusive restrooms and no gender-inclusive housing despite a year of "action" having passed. YDSA will apply pressure to individuals as necessary and support individuals as necessary to ensure that this effort is completed as soon as possible. Additionally, this group will look at addressing the issues related to sex workers, being that Atlanta is the largest hub in America for both sex work and sex trafficking.
YDSA groups are budding at a few other area campuses; one has already held its first meeting. We welcome the new Athens YDSA, students and other community members committed to fighting for higher wages for professional full-time workers at U.Ga., building and educating a membership base, reaching out to local high schools and building coalitions.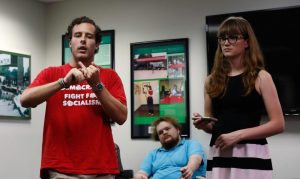 Posted in News