Turning Out to Stop the Gulch Boondoggle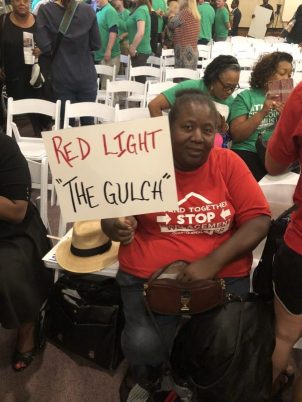 The city's public meeting to promote the Gulch development boondoggle drew an overflow crowd that filled two large rooms, including 12-15 MADSA members in solidarity with the Housing Justice League and other community folks, both organized and individuals, who made their voices heard throughout the proceedings though we were only allowed to submit written questions – not public comments – and only a small number of mostly safe questions were answered by the officials.
MADSA distributed a flier with this message:
"The City of Atlanta has NOT kept its promises when it comes to affordable housing! Atlanta promised 5,600 affordable units with the Beltine – but fewer than 1,000 have been built. Now, they want to do it again with the Gulch development plan. More than 30,000 people are on a waiting list for affordable housing. Yet, they can only promise 200 units with almost $2 billion of public funding? Not to mention that those units will start at over $1000/mo for a studio! Who believes that is affordable?
Ninety-eight percent of our public funding will be a discount to the billion-dollar developers CIM Group, a group that has been called the "slumlords of LA". A group that owns a majority of rental properties in gentrified Oakland. A group that bribed city officials to land investment deals. There is a housing crisis in Atlanta. There are thousands of vacant luxury condos and rapidly growing homelessness and displacement. We want better housing, we want better transit! Tell the City of Atlanta we deserve more!"
Tim Franzen of the Housing Justice League posted on Facebook: "So I'm at Keisha Lance Bottoms' Gulch meeting. It started off with the announcement that there would be no public comment/q&a. It was also announced that everyone needed to behave or they would be dealt with by police, which are all over the room. This is the fakest community meeting I have ever been to. #getyourmindoutTheGulch"
Posted in News