At the Stewart Detention Center With El Refugio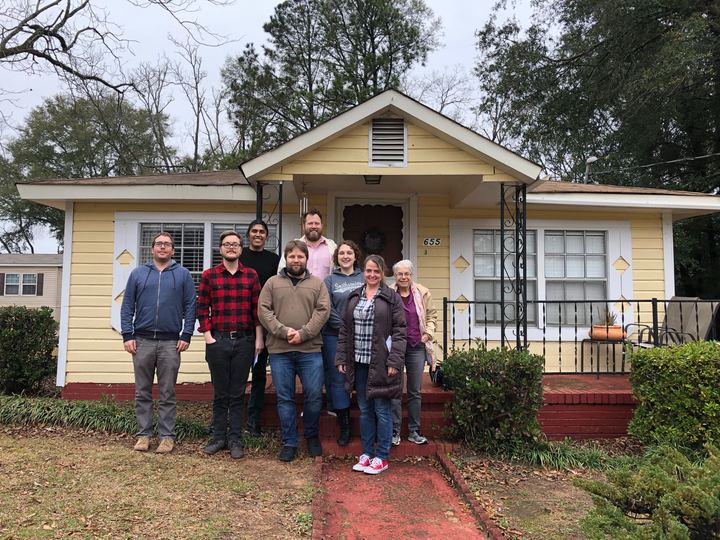 By Andy Bedingfield
Whether or not you're already a member of MADSA, my trip this past Saturday to Stewart Detention Center in Lumpkin with a group of fellow MADSA carpool comrades (see photo) was absolutely worth repeating yourselves, and lemme tell y'all why.
El Refugio is a hospitality house located just blocks away from the gates of Stewart Detention Center in Lumpkin, Georgia. El Refugio provides room and board to families of those who have been incarcerated inside the facility. It chills the blood to know that the best job available to most adults in Lumpkin is paradoxically at this corporate correctional facility, designed to do ICE's bidding.
After getting past the gates and barbed wire fences, filling out some forms, and waiting for an hour (sometimes, I'm told, it's more like two, or just 20 minutes; it depends), I did the TSA dance, waited some more, and talked with Fernando (name changed) for an hour.
Fernando is in his early twenties. He comes from a Latin American country with a strong environmental record. I talked with him about mountains a lot, and the outdoors. We discussed Alfonso Cuaron's film ​Y Tu Mama Tambien​, and he told me about his children and family back home. He didn't want to tell me much about his situation, though, andI understood, politely attempting from then on to avoid thetopic. He didn't ask many questions either, preferring to letme stumble through my Spanish. I think he was just surprisedanyone came to speak with him. I told him about El Refugio, andthat I was a socialist, and that I came in the name ofinternationalism. He understood. We talked more of themountains.
One might assume that almost all of the inmates were from Central or South America, but some of my comrades ended up talking with a Palestinian man, Bassem (name changed) who fled settler colonial Israel only to end up locked away in the settler colonial United States. This only reinforces my belief that solidarity with Palestine is integral to a budding left internationalist foreign outlook in the imperial core, one that says all oppressed people deserve our solidarity, and all walls which hold them back must come down and be barred from arising again if our position is to mean anything to the victims of a disastrous, ongoing, neoliberal foreign policy.
MADSA should continue sending groups to Lumpkin on similar weekend trips. This is a great way to radicalize our membership, new and established. The people who are brutalized by immigration authorities within and without our borders — within and without the corporate institutions that prop up one criminal administration after another — these victims are people, and our duty as socialists, and moreover as fellow humans, must be upheld.
Direct action manifests itself in myriad ways, and in this situation we have an opportunity to assist people who are in real trouble, whether with an hour of human conversation or free lodging and meals for their visiting families, or ordering books for inmates who don't have access to literature in such restrictive prisons. It means we have our work cut out for us in 2019 and beyond. Let's rise to meet that challenge this year, MADSA. (For more info: Immigration@madsa.ga)
Posted in News