People's Inauguration: Just the Beginning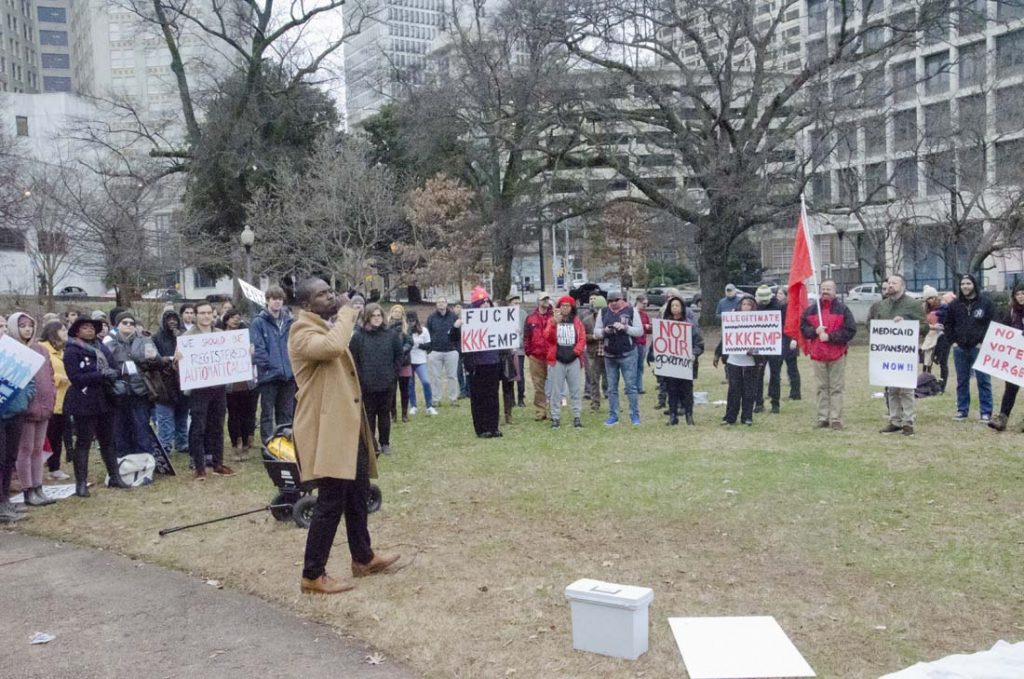 A diverse crowd of about 100 people rallied in cold, damp weather at Hurt Park on the day before Brian Kemp's inauguration, to declare "Not our governor!"; denounce the stolen election; and pledge to work together for policies and candidates that will help, not harm, the people of Georgia.
MADSA Chair and rally emcee Erin Parks read a list of "Kemp's crimes" and reminded us that "this is just the beginning!" City of South Fulton council member and MADSA member khalid kamau spoke about his progressive city – the first in Georgia to make election day a holiday – and introduced newly elected State Senator Sheikh Rahman, who shared an inspiring message of hope. MADSA house comedienne Rara Imler of Southern Fried Leftist podcast fame spiced her speech with humor, and Corey Brown sang for us. Attendees came from as far as Athens, Ga. and a high school in Douglasville.
Other speakers represented Atlanta Jobs With Justice, Black Votes Matter, DeKalb County Democrats, DeKalb Young Democrats, Georgia Street Groomers, Georgia Latino Alliance for Human Rights, the International Socialist Organization, Mijente, Our Revolution, the Public Policy Reform Association, Inc., Socialist Coalition of North Georgia, Southerners on New Ground and United Campus Workers of Georgia.
Our shared concerns were too many to list here. In the area of voting rights, we demanded same day voter registration; automatic voter registration at age 18; barring the secretary of state from overseeing their own election; independent councils to draw district lines free from gerrymandering; a state voting holiday; restoration of the federal Voting Rights Act; and a repeal of the "use it or lose it" rule that allowed Kemp to purge hundreds of thousands of voters.
We look forward to rallying, marching, lobbying and campaigning with all of our partners, members and friends this year, for a state, country and world where all can flourish and enjoy true democracy.
Photo: Reid Freeman Jenkins  
Posted in News