Visiting Ft. Stewart Detainees With El Refugio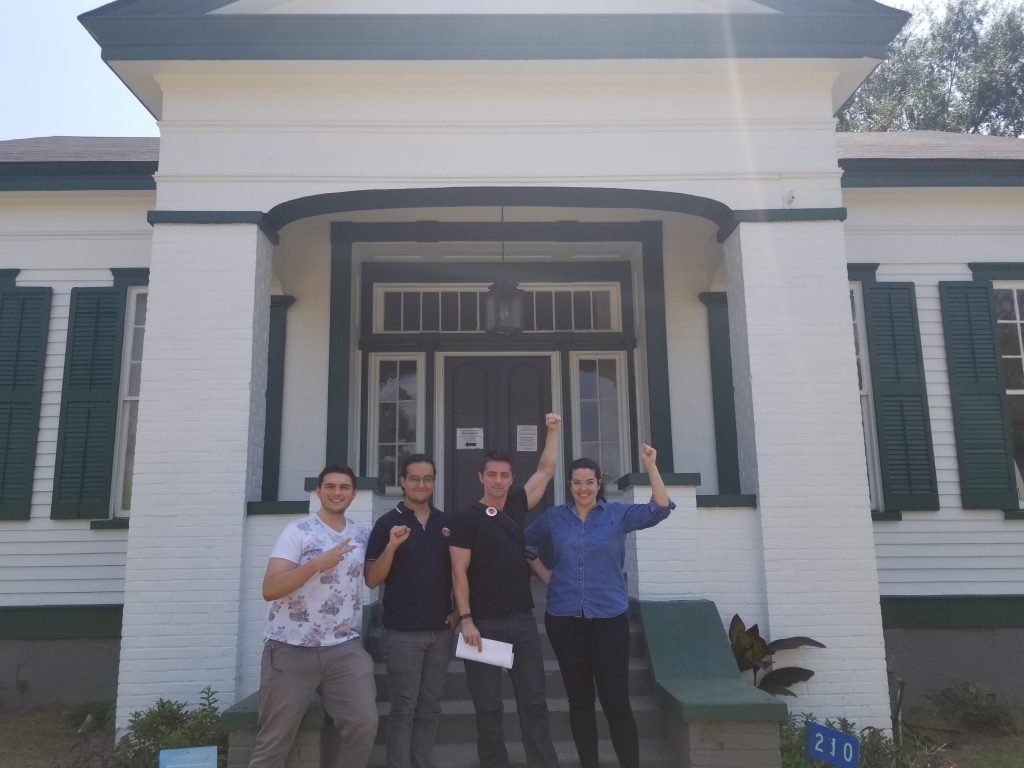 By Julian Prados Franks
In early September, Metro Atlanta DSA's Immigrant Rights Working Group organized a second solidarity visit to the infamous Stewart Detention Center in Lumpkin, Georgia. Even compared to other ICE detention centers, Stewart, a private prison owned by CoreCivic, has a particularly gross penchant for abject cruelty and abuse. With the solidarity visit, we intended to provide some of the detained immigrants, especially those without family members to visit regularly, one hour of open conversation outside of the monotony of life inside Stewart. A group of four DSA members (Julian Prados Franks, Kaitlyn Barnes, Daniel Hanley, and Israel Tordoya Henckell) met at the Edgewood MARTA station before sunrise to make a two-and-a-half-hour trek to Lumpkin.
Before arriving at the detention center, however, we received a house tour and orientation from volunteers at El Refugio. El Refugio, which coordinates the visits with the men detained in Stewart, is a nonprofit established in the late 2000s by members of Georgia Detention Watch for the purpose of providing safe lodging and warm meals free of charge to families and individuals wanting to spend the weekend with their loved ones detained by ICE.
After orientation, our members waited multiple hours in processing, allowing us to experience the grueling wait that immigrant families will endure to spend one hour in direct contact with the men at Stewart. We each spoke to one man. Many of the personal details shared with us must remain confidential, but we can confirm that they were in good spirits during our conversations and felt excited to speak with new people from outside the prison. Some acknowledged the deplorable conditions inside, while others wanted to focus on happier things.
El Refugio encourages volunteers to debrief and decompress after the visits, so we made our way back to their lodging house to share our thoughts and feelings. Additionally, El Refugio provides volunteers with the information necessary to write letters and send gifts to the people they visited.
Reflecting on the experience, our own Daniel Hanley said, "El Refugio does incredible work to connect families and friends with their loved ones detained at Stewart, giving otherwise isolated immigrants an appreciated connection to the outside world. Detainees confirmed accounts of torture (such as solitary confinement and tasers), routine human rights violations, psychological trauma, years of valuable time wasted. Despite these abuses, we met with detainees who are resilient and hopeful they will emerge from detention to pursue their dreams, possibly with the assistance of popular mobilization outside the facility. One friend inside the detention center recounted a grueling intercontinental journey to escape threats to their life. They described an inspiring sense of unity, solidarity, and mutual aid among fellow migrants, and they were welcomed with smiles and open arms throughout the countries of Latin America, until they encountered scowls along the U.S. border. Now they struggle in Stewart for greater access to education as months of their life are pointlessly wasted in a privately owned cage."
We left the house feeling a deeper connection with the immigrant community and a heightened sense of concern for their future. We also felt a little more hopeful experiencing the radical love of the volunteers at El Refugio and observing the perseverance of the immigrant families visiting Stewart.
Posted in News