Climate Strike Marchers Arrested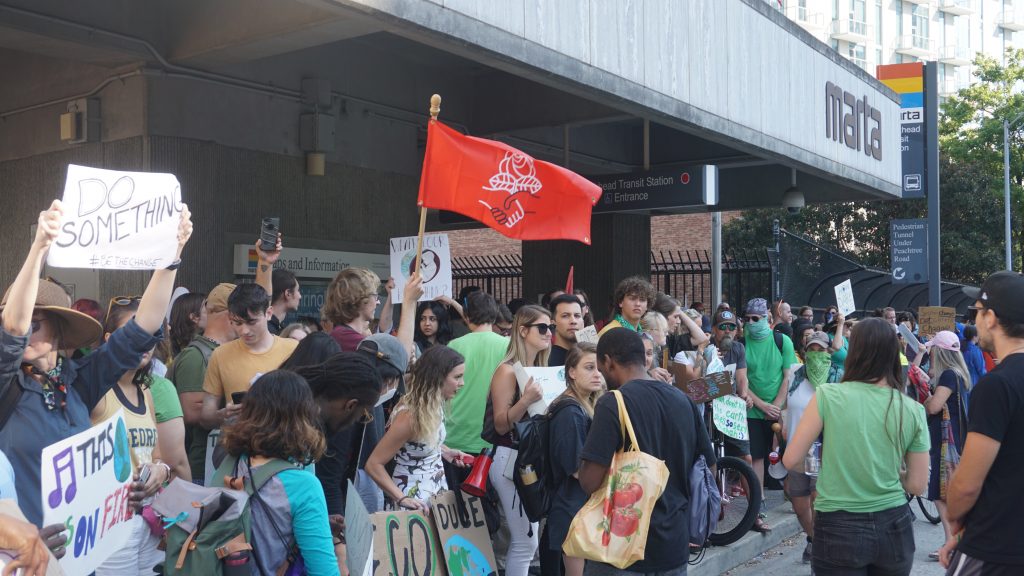 On Friday, Sept. 27, MADSA, Extinction Rebellion and 10 other local organizations participated in the Global Climate Strike, calling for "rebellion against the government for criminal inaction in the face of climate catastrophe and ecological collapse," saying: "The science is clear. The planet is steadily warming as carbon is released unabated into our atmosphere. Ice caps are melting, ecosystems are collapsing, and natural disasters are becoming more and more common. Meanwhile, in the shadow of this unprecedented threat to life on earth, the rich and powerful continue business as usual, upholding the status quo of the economic system that depends on the unlimited and unsustainable use of our planet's resources. Our goal is to stand against those who wish to ignore the evidence and continue business as usual."
MADSA member Michael Roberts reported:
Today MADSA comrades joined over 100 protesters in a climate strike. The strike began at the Buckhead MARTA station, then quickly moved across much of north Atlanta in an attempt to stay ahead of the police, who were prepared with a small army equipped with bikes,trucks, and buses. The police prevented access to the streets and even arrested many protesters, including some MADSA members. Despite being out-matched by the police, the protesters held strong and lasted the day, constantly asking the police "Who do you serve?" as a reminder and a call to action.
MADSA stands in solidarity with any group of grassroots activists who are willing to highlight and call into question the unquenchable greed that has brought on this climate crisis, and stand ready to defend all oppressed people to prevent further victimization while trying to hold back the exctinction of the human race.
Photo: Michael Roberts
See also AJC report and Channel 11.
Comrades Daniel Hanley and Lorraine Fontana were among 20 demonstrators arrested (all have been released). Donate to the bail fund: https://actionnetwork.org/fundraising/extinction-rebellion-mass-action-bail-fund
Posted in News