May Day 2020: Atlanta Car Parade & Protest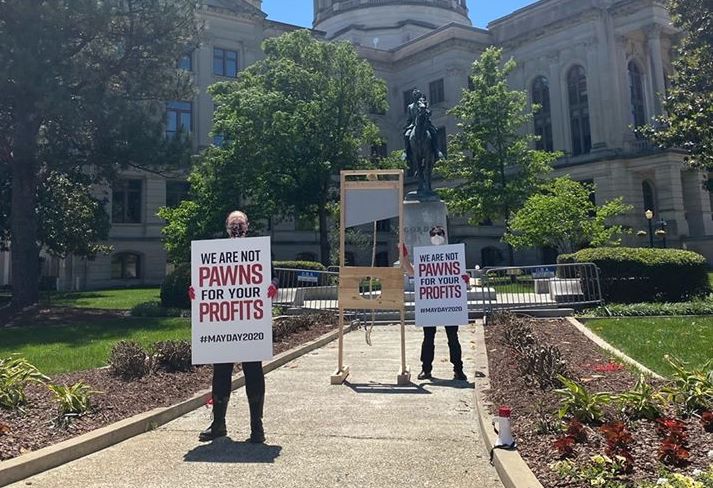 Every Human is Essential
On May 1, 2020, Metro Atlanta DSA joined with a massive coalition of Atlanta-area unions and activist organizations to put on a car parade and protest against the unacceptable handling of COVID-19 by the Georgia state government.
Protesters' demands included:
State-funded paid sick leave for all essential workers
State-funded hazard pay for all essential workers
Expanded unemployment benefits
Expanded medicaid coverage
Expanded food stamp subsidies
Moratorium on rent
Decarceration of jails and ICE detention facilities
The showing was incredible! Upwards of 100 vehicles participated in the caravan.
DSA members erected a mock guillotine along the parade route and in front of the state capitol building. Their signs read, "WE ARE NOT PAWNS FOR YOUR PROFITS."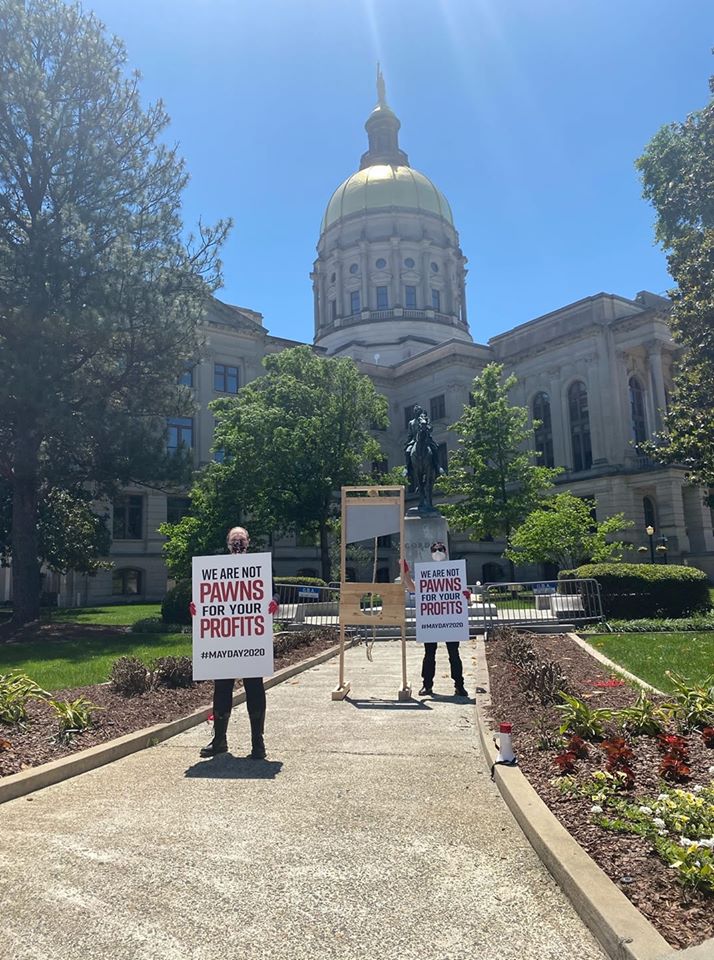 "Cars in the caravan all drove by blasting their horns with their fists raised, as did quite a few people who were not demonstrating," said DSA member Rachel K, who worked closely with other organizers to make the mock guillotine stunt a reality.
More photos from the car parade and protest:
Atlanta's 2020 May Day demonstration was organized and sponsored by:
Concerned Members Of ATU Local 732
United Campus Workers Of Georgia
Shift Change Atlanta
Southern Workers Assembly
National Nurses United
Black Alliance For Just Immigration
Community Movement Builders
Atlanta Industrial Workers Of The World (IWW)
Metro Atlanta Democratic Socialists Of America
Science For The People – Atlanta Chapter
Georgia Detention Watch
Black Workers For Justice
Workers World Party
Georgia Peace And Justice Coalition
Georgia Workers Alliance
Housing Justice League
New Orleans Hospitality Workers Alliance
Get involved with Metro Atlanta DSA
Never forget — the wealthy elites need us more than we need them. Without our labor, they would have nothing. When we stand together, we are unstoppable.
Posted in News